Reviewer Penny shares her picks for 2017…
A celebration of love, comfort and diversity, this book is exquisite in every way. The heart-warming text portrays the umbrella as a symbol of the ever-present love of family. It's beautifully complemented by vibrant illustrations with splashes of neon colour and gentle emotion.
Anna Walker has created yet another stunning picture book with her tale of the little girl who longs for her country garden after moving to the city. Verdant and poignant illustrations add further depth to the soft and subtle text, revealing Mae's journey through the city as she opens herself to the possibility of new friends and a new garden.
I Love Me – Sally Morgan and Ambelin Kwaymullina
Here's a colourful and glorious book to help children celebrate their individuality. The spirited rhyming text is full of onomatopoeia and repetition, and the whole book exudes a sense of the joy that comes with self-acceptance and tolerance for others.
NoMax! – Shannon Horsfall
This hoot of a story is my four-year-old daughter's pick of the year. Max is an exuberant and loyal dog, blithely unaware of the chaos he causes his long-suffering owner, whose constant refrain is 'No Max'. Max hears this so often, he's certain it's his name. Clever rhyming text and mixed-media illustrations add to the charm.
Clare's Goodbye – Libby Gleeson and Anna Pignataro
Brimming with beauty, warmth and poignancy, this is a gentle story about three siblings saying goodbye to their family home, in their own unique ways. It's a magical combination of whimsical details, restrained text and evocative illustrations.

Meet Reviewer Penny Harrison…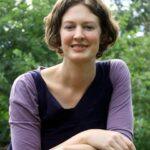 Penny Harrison is a children's author, book reviewer, journalist and photographer. For almost 20 years, she has been writing for magazines and newspapers, covering everything from gardening, wellbeing and sustainable living to art & design, interiors and books. Her first children's picture book, Dance with Me, was released in October 2016, through EK Books, and her second is due out early in 2018. Penny lives on the outskirts of Melbourne, by the Yarra River, with her husband and two young children, and an ever-growing menagerie of dogs, cats, chickens and bunnies.  More information can be found on her website : www.pennyharrison.com.au.