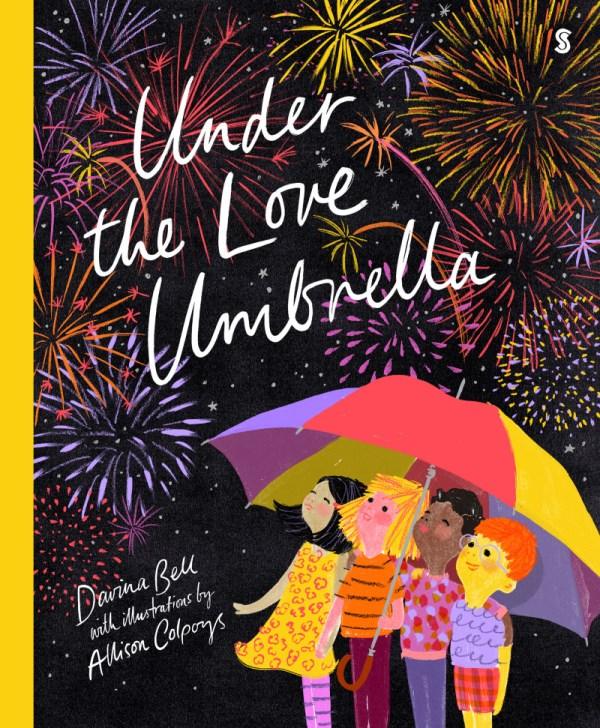 Davina Bell (text),  Allison Colpoys (illus.),  Under the Love Umbrella,  Scribble,  27 Feb 2017,  32pp.,  $24.99 (hbk), ISBN 9781925321265
The love umbrella is a metaphor for comfort, love and safety, particularly that offered to a child by an adult.  When there are difficult moments such as friends refusing to share, or being afraid of the dark, the concept of the love umbrella can bring comfort.  The book celebrates love and all it can bring, showing it as present and important in a range of cultures, with diversity shown through the illustrations. These also show a range of children – boys and girls, children with glasses, children with their fathers, others with two parents, some with their mother.  This all occurs quite naturally and particular attention is not drawn to any of it.
The story is told in rhyming text with the last line of each 'verse' making reference to the 'love umbrella' of the title. The illustrations are bright and bold with the use of a great deal of white background in many in order to emphasise the figures. There is action and movement in the illustrations and the facial expressions help to depict the emotions outlined in the verse. The penultimate illustration gives the reader a kind of bird's eye view as we look towards four houses drawn across a double-page spread and, in each one, a child is depicted looking out a window to a sky which is lit with fireworks, the visual manifestation of the love umbrella. Finally, children are asked to think about the question of love and its importance by the question on the last page "Who's under your love umbrella?' The endpapers are bright and cheerful covered with splashes of almost fluorescent orange yellow and purple against a white background.
A warm and gentle picture book which would be ideal for sharing.
Reviewed by Margot Hillel