Mia Macrossan, Vice President of CBCA (Qld branch) and Reading Time reviewer, shares her suggestions for great summer reading….
The Wolf Wilder by Katherine Rundell   A great read on a hot summer's day as it it set in a
freezing Russian winter! Wild and stormy Feo has to overcome many challenges as she and her three half-tame wolves go to rescue her mother. Touching, uplifting and a great adventure.  For ages 10+.
The Letter for the King by Tonke Dragt  On the eve of becoming a knight, young Tiuri is given a dangerous mission to deliver a letter to the neighbouring king. A rich moral tale with  depth of feeling, sharply observed characters and plenty of action and suspense.  For ages 10+.
The Rest of Us Just Live Here by Patrick Ness  The story of what is happening with the ordinary people while all the exciting original folk have strange adventures, like fighting zombies, controlling the weather or saving the world. The only trouble is that somehow these two realities are becoming intertwined and the people in the background suddenly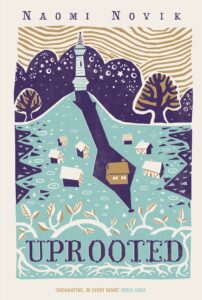 have to step up and do something. Original, clever and always totally engrossing. For ages 14+.
Uprooted by Naomi Novik   Agnieszka is chosen by the wizard in the tower to spend the next ten years there with him because she can do magic, something she wasn't  aware of. The whole village thought that he would choose Kasia, her best friend, because she is  beautiful, brave and clever. They all work to stop the evil that is growing in the woods and threatening their lands. This fairy/folk tale in an Eastern European setting references many well known stories. It is clever, well written and one of the most enjoyable books I have read this year. Unputdownable. For adults and older teens.