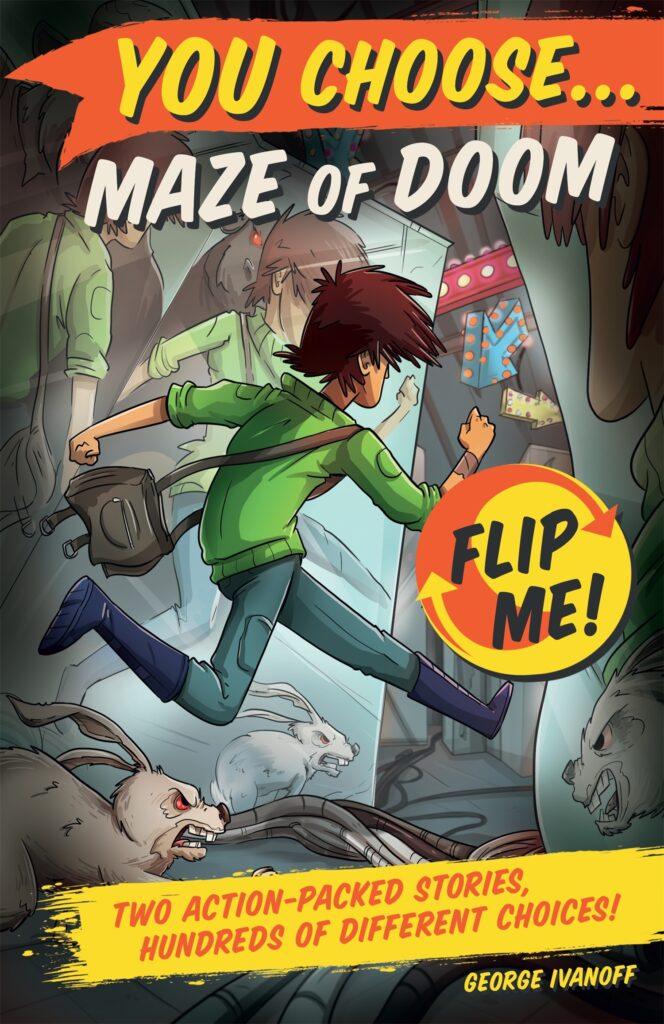 George Ivanoff,  Maze of Doom/The Haunting of Spook House (You Choose 3 & 4 flip bindup), Random House, 1 Dec 2015,  153/151pp.,  $19.99 (pbk),  ISBN: 9780857989550
The compelling element of the You Choose books is that the protagonist is the reader. Told in second-person narrative, and with multiple pathways and endings, the reader has the choice to determine their fate. The Haunting of Spook House scenario begins with ominous clouds looming above a creepy two-storey house at the top of a hill. You are remembering the house's diabolical history and must decide whether to enter. This story has a ghost hunter (think Ghostbusters), criminals hiding counterfeit boy-band dolls, a possessed teddy bear, a mysterious box and of course, lots of ghosts with various agendas. Maze of Doom begins when you decide whether or not to enter. Lots of adventures which could include dragons, minotaurs, a cuddly teddy and zombie bunnies are possible and myriad (hilarious) ways to die.
I am very fortunate to have had George visit the school at which I work to speak to the primary children. He was very entertaining and inspired the students to write, sharing his methods for creating a You Choose story, and then creating a plot with the students.
His books are extremely popular and are never on the library shelves long. Fast-paced and fun to read, they are perfect for reluctant and younger readers.
Learn more about George Ivanoff on his website.
Reviewed by Sharon Seymour