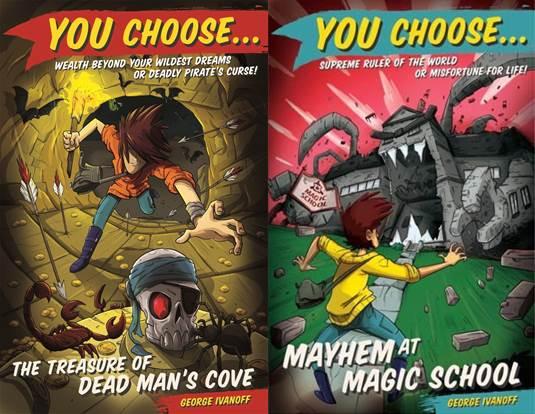 IVANOFF, George The Treasure of Dead Man's Cove 137pp ISBN 9780857983831 SCIS 1648523; Mayhem at Magic School 154pp ISBN 9780857983848 SCIS 1661891 Random House (You Choose), 2014 $14.95 pbk+e
This series is a direct descendent from the very popular 'Choose you own' adventure series of the eighties, but with a darker edge.  With The Treasure of Dead Man's Cove you are on a sea-side holiday with your family when you find an old map, said to be that of One-eyed William, the worst pirate of them all.  Is it real or a hoax?  There's only one way to find out – choose your own alternative – it can lead you to danger and disaster, adventure, riches or a total anti climax.
In Mayhem at Magic School it is an ordinary school day, when suddenly weird things start to happen – a ball thrown at you stops in mid-air, rabbits appear from under your teacher's hat and much more – what is going on?  Is it a dangerous inherited problem as your father suggests that can be cured by therapy?  Should you agree to be red', or do you want to keep these powers?  Exciting possibilities offer themselves for your choice – could you be a spy?  Could you attend Magic School and what would be the result?  It's all up to you to make the choices.
Following the usual formula, chapters are short and choices are many.  The format is appealing with well-spaced, large clear font, short sentences, and the vocabulary is excellent – ideal to extend the less interested reader.  The novelty of the formula will appeal to reluctant readers, especially boys, and so will the shivery thrills.  It's a good pick-up, put down series of quick reads for occasional use, or for a more extended session.  More titles are in preparation.  Ages 8 – 10.
reviewed by Joy Steward