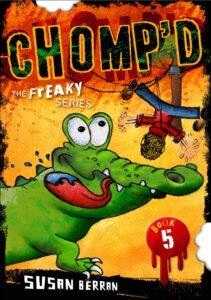 Susan Berran, Chomp'd (Freaky #5) JoJo Publishing, 2013 196pp $16.99 pbk ISBN 9780987192738 SCIS 1637065
In this latest book in the popular series, Sam has found himself with his parents and baby sister Mel stuck in the boring country town of Agnath, 'the butt-crack of the universe', where the smell of cow-dung pervades the atmosphere, and his school companions are grass-chewing dull-heads, except for his mate Jared who is also a city-bred boy.  The two find amusement in ingenious adventures, surfing in a muddy dam with the help of goats, and devising a powerful sling-shot using a broken-down tractor to get rid of Sam's little sister's smelly nappies and other rubbish, both of which escapades end disastrously.
But things look up when Sam's mother takes him, Mel and Jared on a holiday to Cairns.  The chance to swim is ruined with crocodiles in the surf, but there is a scary adventure for the boys when they explore a large sewer pipe.  A hair-raising tree-surfing expedition in the Daintree Forest and a visit to a safari park with some frightening encounters, leaves them both certain that Cairns was a dangerous place for a holiday.
There can be no doubt that this new 'Freaky' book would appeal to less enthusiastic readers, as is indicated by the success of previous books.  The hilarious adventures with Sam's own highly emotively rapid narrative style, the child-centred expressions, the constant references to things smelly and gooey, bordering on the scatological, and the presentation of the text in a variety of typefaces, all go to make Chomp'd a great read for ages 8 to 11, particularly for those for whom reading is a chore.  JDA