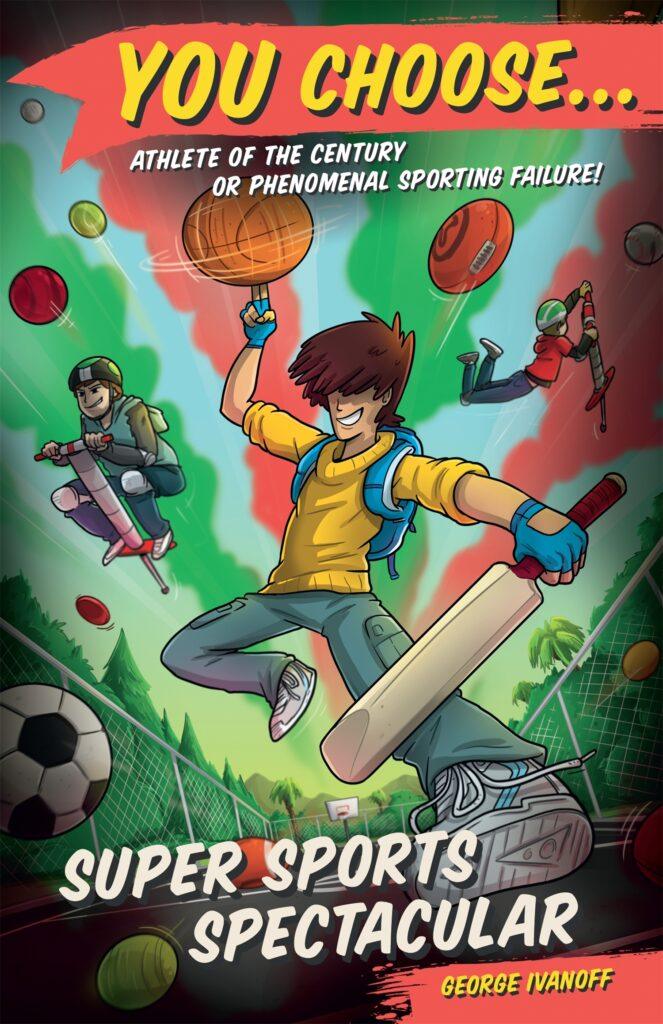 George Ivanoff, Super Sports Spectacular (You Choose #7), Random House Australia,  3 August 2015,  160pp., $14.99 (pbk),  ISBN: 9780857988416
George Ivanoff, Trapped in the Games Grid (You Choose #8), Random House Australia,  3 August 2015,  160pp., $14.99 (pbk),  ISBN: 9780857988430
What could be better than a story that follows the path you choose for it? Absolutely nothing according to fans of the You Choose series by George Ivanoff. With so many options presented and alternate paths to follow, readers can come back to these books time and again and always discover something new. With each pathway comes new characters, twists and turns and different perspectives on the central theme, so a new experience is almost guaranteed every time.
Having multiple stories in one book means that each story path concludes quite quickly and struggling readers can enjoy a feeling of success by completing a story in one sitting. Within the classroom setting, struggling readers would blend perfectly among their peers – holding and reading a novel and, by making choices, can experience a sense of empowerment over the reading process. Generally speaking, choose your own stories such as these encourage lateral thinking by encouraging kids to see events from multiple points of view and with so many options, beg the question "What other scenarios are possible?" thus also encouraging creativity.
These two books in particular; Trapped in the Games Grid and Super Sports Spectacular, fall firmly into the laps of the market for 8-12 year old boys. They are relevant, modern themes written in a no-fuss, fast paced style and the stories are full of action and adventure. They present a range of endings from the realistic and tame to the outrageous and completely fanciful, and if an ending is not to your liking – simply start again and choose a different path. Easy!
You Choose stories are shorter than I expected from a novel-sized book of 160 pages, but with 31 alternate endings in each, and numerous ways to get there, the breadth of options more than makes up for a lack of depth in each story. A fluent reader may find the stunted nature of the abbreviated stories a little frustrating, but for the target audience, these books do a great job of being engaging, manageable and modern. I highly recommend them for mid/upper primary school boys who are struggling readers.
Reviewed by Katie Bingham