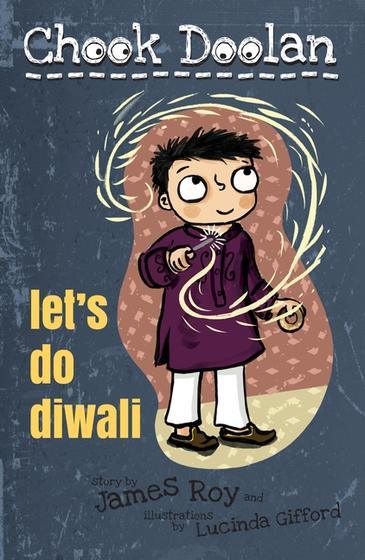 James Roy (text),  Lucinda Clifford (illus.),  Let's Do Diwali (Chook Doolan),  Walker Books Australia,  1 June 2017,  64pp.,  $7.99 (pbk),  ISBN: 9781925381597
I absolutely gasped out loud when I saw the title of this book: Diwali is the Hindu festival my family and I most look forward to, and we are waiting patiently to introduce the children in our family to the festival and all the goodness that comes with it.
From his name, you'll be right in thinking that Chook is about Australian as you can get.  Lucinda Gifford's illustrations bring him, with his big innocent eyes and his family, to life wonderfully. Chook is nervous in crowds and when speaking in front of them, and he readily admits that sometimes trying new things isn't easy for him. The straightforward sentences used to tell Chook's story have a simple structure, but will appeal to young readers especially those who have experienced the same fears.
One day Chook's best friend is away sick with chicken pox, so Chook finds himself partnering with Praj for a project. Praj Patel is a quiet, soft spoken boy who asks their teacher to let them work on Diwali as part of their project about festivals around the world. The book also mentions festivals in South America, the United States of America and Spain, celebrating the diversity of cultures around the world.
Praj teaches Chook about the delights of Diwali, like the food and music. I adored Chook's concern about making a mistake – not celebrating Diwali the right way, not getting the food right – that sort of innocence is such a delight, and young readers should identify with him and his situation easily.
Chook meets the Patel family, who invite him along to a Diwali celebration in the park, and slowly he comes out of his shell, speaking up and enjoying all the things he thought he was afraid of in the beginning of the book. The illustrations are fun, and the writing thoroughly explores a Diwali celebration, from the music, to the food, fireworks and Indian dancers.
I might be way past the age group for this sort of book, but reading them still excites me because I never saw something like this growing up and I don't see books like this for older age groups. But, these are the books that make me hopeful for the future of Australian children's literature and the future of Australia as a inclusive multicultural society. It makes me excited to share these with my nephews and to witness their delight at seeing their heritage in print.
Reviewed by Verushka Byrow