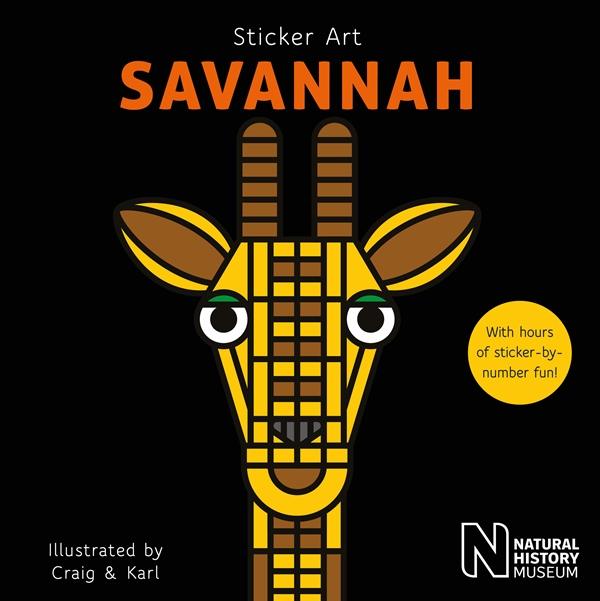 The Natural History Museum (text),  Craig & Karl (illus.),  Sticker Art : Savannah,  Frances Lincoln Children's/Murdoch Books,  August 2017,  24pp.,  $11.99 (pbk),  ISBN: 9781847809445
The Natural History Museum (text),  Craig & Karl (illus.),  Sticker Art : Woodland,  Frances Lincoln Children's/Murdoch Books,  August 2017,  24pp.,  $11.99 (pbk),  ISBN: 9781847809476
The Natural History Museum of London presents the Sticker Books, Savannah and Woodland, two of a series of four featuring different natural environments.
Produced on high quality, sturdy cardstock, these books are beautifully designed. Each page features an animal from the environment of the title, presented in outline form. Readers are challenged to match the (numbered) coloured stickers from the back of the book, to bring each animal image to life, in a stained-glass type pattern. There are eight animals featured in each book; woodland creatures including the swallowtail butterfly, reindeer, red fox and tawny owl, and savannah animals such as the giraffe, African lion, gazelle and zebra.  On the back of each page, selected facts about the animal are presented, using the standard headings of lifespan, habitat, family, survival, diet, identifying features, special skill and behaviour.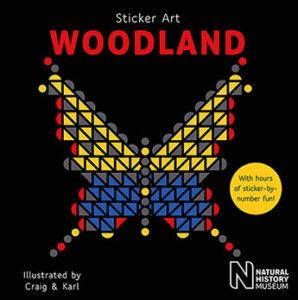 These books would be terrific for young animal lovers, aged 5-8 years, and would keep them entertained for a holiday afternoon. The stickers are small, but not tiny, and should not pose a fine motor challenge. They are designed to match the patterns perfectly – perhaps an opportunity lost here, given the potential for learning about geometrical concepts such as shapes and tessellation!  The books are not classics that one would repeatedly turn to – they are essentially activity books.
From an educational perspective, each book could be deconstructed and used as a series of 'research cards', suitable for information literacy activities for Year One or Two students. After completing each sticker activity, the pages would stand alone as an excellent source of information, clearly set out under useful headings for a simple introductory note-taking project.
These books would make a lovely gift for a young naturist, or a useful resource for a classroom project, but would have limited appeal for school libraries. The 'one use' nature of the sticker activity limits their longevity, but as an activity book, they are well presented and of good quality.
Reviewed by Kay Oddone