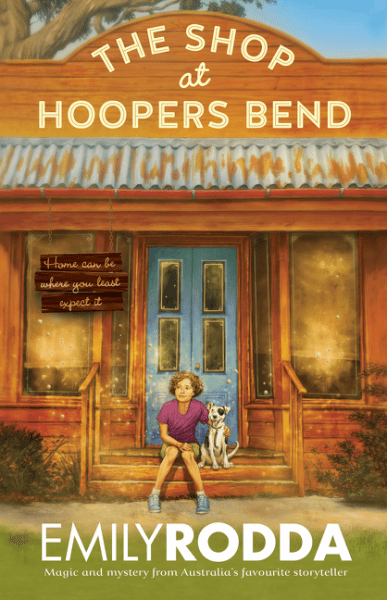 Emily Rodda,  The Shop at Hoopers Bend,  HarperCollins Australia,  29 July 2017,  256pp.,  $16.99 (pbk),  ISBN: 9781460753668
The Shop at Hoopers Bend is a story with a distinctively Australian flavour, infused with eucalyptus smells, cicada sounds, and nostalgia for simpler times. Written by Emily Rodda, one of Australia's premier storytellers, having authored or co-authored over ninety books for children, this atmospheric tale centres around a forgotten country shop and the serendipitous events which bring it back to life. 
"And in the front of the shop, sitting on the narrow step like ghosts of the past, were a skinny girl and a chunky little white dog with black spots."
Quil – short for Jonquil – is an orphaned eleven-year-old who is inexplicably drawn to the abandoned country store at Hooper's Bend. There, she befriends the shop's new owner, Bailey. Quil feels right at home at Hoopers Bend, but isn't sure why. These opening chapters reminded me of Neil Gaiman's talent for seamlessly blending the everyday with the magical. The shop is almost a character in its own right, thanks to Rodda's vivid descriptions.
"Memories seemed to swirl thickly in the air, like the dust motes that glittered in the light shining through the cracks in the blinds."
The busy highway which runs right by the shop serves as a constant signal that change is coming and trouble is brewing. For much of the book, Quil and Bailey are kept busy thwarting scheming agendas to buy and bulldoze the shop.
Orphaned Quil has her own special way of categorising people's traits, one which helps her make sense of the world and the people she encounters throughout the story. There are few children about, but Pirate, the feisty dog who follows Quil's every step, proves a loyal companion.
Hoopers Bend is full of country hospitality, but also holds plenty of secrets. Quil's sharp wits prove instrumental in helping solve the mystery at the centre of the novel. The Shop at Hoopers Bend is a satisfying read for both young and old, with its timeless tale about new life, new hope and new beginnings.  Recommended for 9 years and up.
A Teaching Guide is available on the HarperCollins website.
Reviewed by Elizabeth Foster