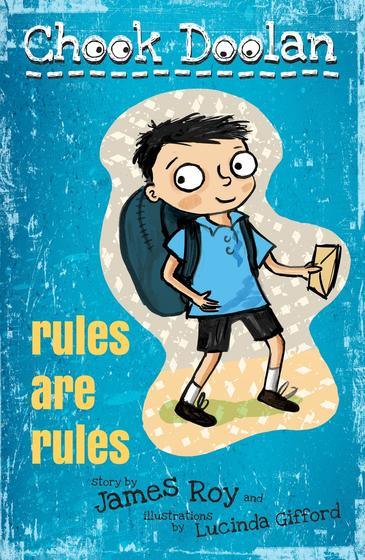 James Roy (text), Lucinda Gifford (illus),  Rules are Rules (Chook Doolan #1), Walker Books Australia, 1 May 2016, 64pp.,  $7.99 (pbk), ISBN 9781922244932
James Roy (text), Lucinda Gifford (illus),  The Newest Pet (Chook Doolan #2), Walker Books Australia, 1 May 2016, 64pp.,  $7.99 (pbk), ISBN 9781922244949
James Roy is a very popular Australian author of YA and middle grade novels. Now he has produced a terrific new series of chapter books for emergent readers.
The main character, Simon Doolan is known as 'Chook' because he is chicken (scared) of everything.  He lives with his big brother Ricky, his mum, his dad, a cat called Flexy-Lexy and a goldfish called Bruce. Chook's best friend, Joe, is taller than him and not scared of anything, except 'maybe maths tests'.
Melbourne based illustrator Lucinda Gifford has created drawings which complement the text beautifully. She depicts Chook as an endearing young boy with big round eyes and a very expressive face showing a range of emotions- nervousness, sadness, fright, happiness, relief, surprise etc.
Book One is Rules are Rules: Every day Chook walks to school with his big brother Ricky. But one day Ricky is sick. Chook's mum has taken Ricky to the doctor. Chook's father can't drive him because he's running later for work. Chook has no choice. He has to walk to school all on his own. This is terrifying for him until his father tells him about a special rule to follow when walking to school to keep safe. But following this rule leads Chook into more trouble.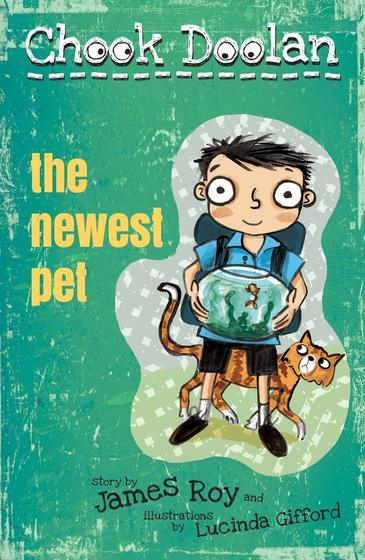 Book Two is The Newest Pet: Chook's school is having a 'Bring a Pet to School Day.' Chook has a cat and a goldfish that he could take, but Chook's friend Jo doesn't have a pet because his sister is allergic to animals. This starts Chook's quest to find a pet for Jo to take to Pet Day. I won't tell you how it turns out – but they find quite a surprising solution to their problem.
Early readers – 5-8 year olds- will easily empathise with Chook and enjoy the funny twists and turns in Roy's clever plots.  They will be looking forward to reading the next two books in the series, Chook Doolan Saves the Day (Book 3) and Chook Doolan and the Tiny Guitar (Book 4), due out in early August 2016.
Reviewed by Wendy Fitzgerald