James Roy (text),  Lucinda Gifford (illus.),  On The Road (Chook Doolan #5),  Walker Books Australia,  June 2017,  64pp.,  $7.99 (pbk),  ISBN: 9781925381566
James Roy (text),  Lucinda Gifford (illus.),  Unhappy Camper (Chook Doolan #6),  Walker Books Australia,  June 2017,  64pp.,  $7.99 (pbk),  ISBN: 9781925381573
The latest books of the Chook Doolan series are On The Road and Unhappy Camper.
In On The Road, Chook's family is going on a holiday to visit his mother's sister and her family. Chook is a bit worried that he will be bored because his aunt's twin kids, Evie and Poppy, are too young. His brother Ricky only wants to play soccer but Chook doesn't like playing soccer. He wants to play his favourite game – chess. He tries to play the game with his Dad but his Dad can't grasp the game at all. Chook gets the surprise of his life when his cousin Evie becomes interested in chess. She is even becoming as good as Chook.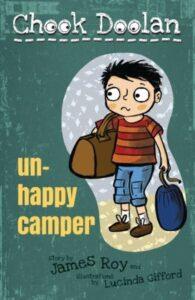 In Unhappy Camper, all of Chook's classmates are super excited about the upcoming class camp, but Chook is very nervous. He is worried about everything that could go wrong at the camp – like finding snakes, getting homesick, not liking the food or getting something that could make him sick. Everyone is trying to convince him to go, but his mind is set. Or is it?
The Chook Doolan series is an enjoyable read for kids five years old and up. It is narrated from the point of view of Chook, whose real name is actually Simon Henry Doolan. But everyone calls him Chook because he's a bit of a chicken. He talks about his best friend Joe, his annoying brother Ricky and his parents, Heide and Tony.
His concerns are normal for his age, something that the readers will be able to relate too. The book is quite funny, perfect for little readers. Chook Doolan is a good series for young readers to get into.
Reviewed by Kristyn Levis