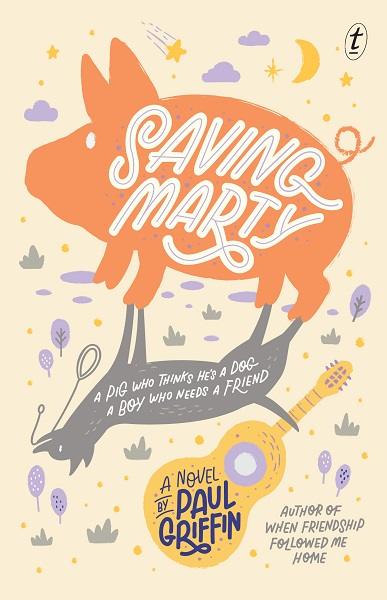 Paul Griffin, Saving Marty, Text Publishing, 2 Oct 2017, 208pp., $16.99 (pbk),  ISBN: 9781925498868 
'First, the rain wasn't just in my father's eyes, it was in his voice too. A gentle rain, a soft sadness. In that letter he wrote about music, the music in it, how it was like surfing, he described his heart as broken, and here it was.

Second, my father was flat-out amazing. He had that thing Pal had. Like he would sing the same way if nobody was listening. Meanwhile, he was singing to the universe.' 
Saving Marty is an uplifting, bittersweet novel about enduring friendship and everyday heroes, from the award-winning author of When Friendship Followed Me Home.  And once again Paul Griffin has married gritty realism with a life affirming tale of true home-spun magic and love. 
Lorenzo Ventura is just an ordinary kid, not like his father who died in the war or his best friend Paloma who is an amazing musician and singer. Life on his failing peach farm is far from easy, but when young Renzo adopts Marty, a runt piglet who thinks he's a dog, he finally gets the chance to do something special, something heroic.
When Marty gets too big and causes a serious accident, Renzo's stressed out mother says the fully grown pig has to go. Will Renzo be able to save Marty from the inevitable animal auction?
From the letters his father wrote in the war to the transcribed songs Paloma and Renzo perform together, so much about this novel is achingly poetic.
This is a compelling, heart-swelling, and well-paced read for upper-primary aged readers and beyond, broaching those universally important themes of purpose, caring for others, and everyday heroes. The author shows his readers that it's the expressive, healing power of music and those friendships that go the full distance that can keep a person whole in the face of adversity.
A perfect choice for animal lovers and fledgling music enthusiasts, this sweet tear-jerker doesn't shy away from the tragedies life can bring, but instead delivers the kind of truth and beautiful wisdom all our children deserve.
Teaching Notes can be found on the Text Publishing website.
Reviewed by Lisa Hoad