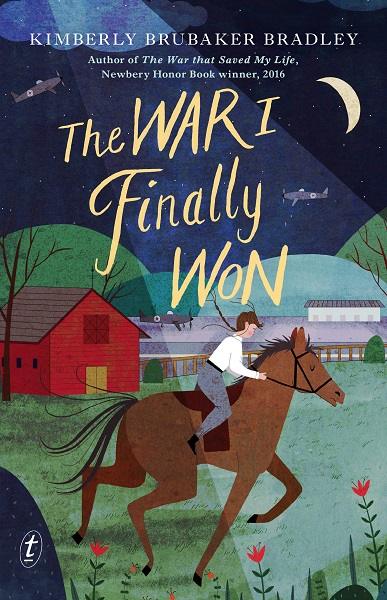 Kimberly Brubaker Bradley, The War I Finally Won,  Text Publishing, 2 Oct 2017, 400pp., $19.99 (pbk), ISBN 9781925498851 
'I knew my mother –Mam- worked nights in a munitions factory in London. I knew bombs were falling on London now, every single night in fierce, horrendous waves. I knew the Germans targeted factories, especially munitions ones. I'd been caught in a bombing raid myself. Brick walls exploded above my head. Afterwards shattered glass drifted across the streets like snow.'
The War I Finally Won is an astounding novel that follows on from Kimberly Brubaker Bradley's first award-winning historical adventure, The War that Saved My Life.
Set against the tense backdrop of a staunchly resilient England in the grip of the Second World War, we follow the turbulent life of Ada, a courageous young evacuee, and her little brother Jamie. Having escaped the unrelenting danger of the London blitz and a neglectful, abusive mother, the children are finally able to live with their kind guardian, Susan, in a borrowed cottage, deep in the English countryside.
Thanks to the generosity of the well-to-do Thorton family, Ada has had her club foot surgically fixed and is able to keep and ride Susan's beloved horse, Butter. But as Ruth, a Jewish girl from Germany, arrives at the already overcrowded cottage, and the war continues to rage across the sea and in the skies above them, the home front is far from a place of peace and idyllic safety.
Told through the breathtakingly authentic voice of a tenacious child, young Ada brings the wartime realities to the forefront in the most vivid and emotionally acute way.  Ada's courage and compassion has always won out over her disability but it is the healing power of love and belonging that finally transforms her from a damaged child to a self-assured young woman, whose brave heart inspires and influences even the most cold and formidable people around her.
As the effects of the war become even more terrifying, this story's cast of complex and profoundly different characters are skilfully united in their one, overriding commonality: the war effort.
Not only does this heart-warming and beautifully written book offer the reader a truly enlightened perspective, it is jam packed with historically accurate and fascinating nuances of everyday life in wartime Britain. The author cleverly uses some of her characters' conversations to hint at their involvement in the famous breaking of the Nazi spy codes at Bletchley Park and also to highlight the public's growing horror as the full story of Hitler's genocide unfolds.
This title is suitable for upper primary aged readers and beyond and would be an invaluable resource for parents or teachers wishing to commemorate and research World War II and the Holocaust with their children.
This absorbing adventure, with its gentle humour and fearless characters will captivate you. It is as exciting as it is poignant and wise and deserves to take its rightful place among the classics of children's wartime literature.
Teaching Notes can be found on the Text Publishing website.
Reviewed by Lisa Mercer