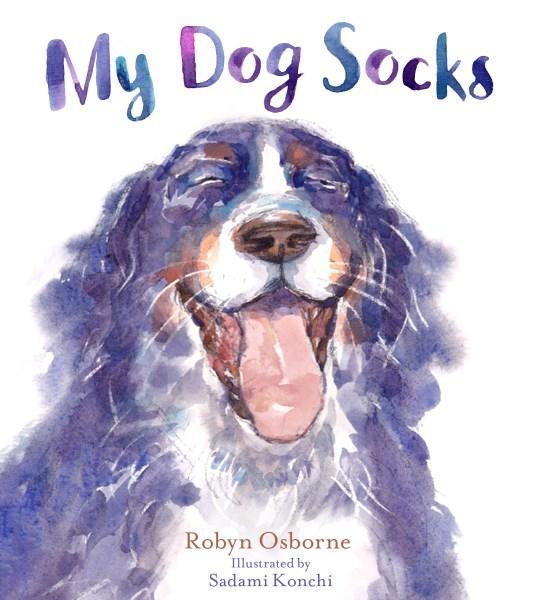 Robyn Osborne (text),  Sadami Konchi (illus.), My Dog Socks, Ford Street, 1 Oct 2017, 32pp., $24.95 (hbk),  ISBN: 9781925272826 
'Most people think Socks is an ordinary dog, but when we explore the beach, he turns into a… daring dolphin! Surging through water and cresting the waves, splashing and crashing, tumbling and stumbling.'
My Dog Socks is a timeless tale of one boy and his best friend in all the world, his loving and energetic dog, Socks.
Told from the little boy's perspective, through sweetly written prose, readers are invited into the magical world of imaginative play and the endless possibilities of childhood games.
Following on from the repeated phrase 'Most people think Socks is an ordinary dog,…' the story moves through a variety of natural outside settings: a beach, a garden, a forest and farm, and in each, Socks the dog becomes whatever the little boy needs him to be.
As the boy and his playmate explore their environment, mirroring each other's behaviour and adapting, chameleon-like, with each new setting, their imagination runs wild. Without toys, technology or anybody else around them, their play becomes truly extraordinary.
The author uses some satisfying alliteration for each imaginary creature, contented cow, pongy pig… and neatly rhyming pairs of action verbs to describe what's taking place, clawing and gnawing, scrabbling and dabbling... But it's Sadami Konchi's wonderfully inky illustrations that really draw the reader into this secret world of imagination.
Even before the adult has finished reading, as they pause before announcing the next exciting animal incarnation, the answer is depicted in Socks' cleverly painted shadow, giving young readers the opportunity to guess, and in doing so, become part of the story and the game.
Perfect for pre-school children (three years+), My Dog Socks provides plenty of imaginary fun and word play opportunities whilst celebrating that very special bond: the unconditional love, loyalty, and trust between a child and their dog.
Teachers Notes are available on the Ford Street website.
Reviewed by Lisa Hoad