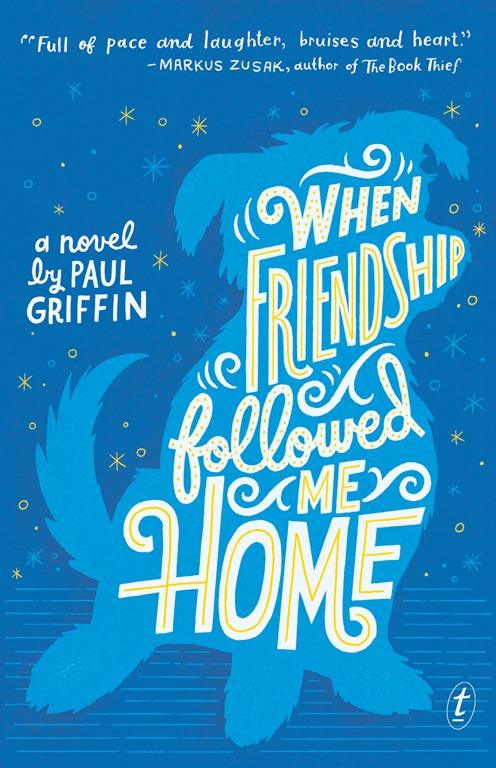 Paul Griffin,  When Friendship Followed Me Home,  Text Publishing,  27 June 2016,  256pp.,  $16.99 (pbk),  ISBN: 9781925355499
There will be tears. Just a warning.
When Friendship Followed Me Home by Paul Griffin is the story of Ben Coffin, a former foster kid who always felt like his life was temporary. He was adopted at 10 years old and has since lived with his mom, Tess.  A clever, imaginative kid with a passion for all things Star Wars, Ben is a constant target of school bullies. His last name, Coffin, doesn't help either. He feels out of place. He is afraid that he'd be one of those kids who just go missing and no one would care.
Then one day, the universe crossed his path with a disheveled puppy and his life changes forever. Flip becomes Ben's shadow.
However, Ben's life takes a sad turn when his mother dies and he is forced to move yet again.  His fear of uncertainty bubbles up again and Ben finds himself feeling lost. When he meets his favourite librarian's daughter, Halley, Ben finally finds a connection with someone – deeper than he's ever had with a friend before. She's cute, she's clever and she's funny.  He becomes a part of Halley's family – her librarian mother and magician father. They welcome him with open arms, showing him a family full of love and happiness.
But Ben's life hits yet another wall and he's pushed into an emotional whirlpool again. It doesn't look good and he's running out of choices. What would a 12 year old do? What could a 12 year old do?
This is a beautiful book. Heart warming and heart breaking all at the same time. You'll probably question if this is an appropriate book for young readers, especially as it deals with death and abuse. It is definitely a personal decision.  For me however, I believe this is a great book for young readers. It will teach them about the life of those who don't have it as good as they do. It will teach them about love and friendship. It will teach them to cherish the people in their lives because everything has an ending.
I cried in several parts of the book. But in the end, it also gave me a nice warm fuzzy feeling inside.
Teaching Notes are available on the Text website.
Reviewed by Kristyn M. Levis