Reviewer Renee Mihulka shares her picks for 2017…
This middle-grade book is quirky and beautifully written. It explores deep themes such as class difference, phobia and family with hope and loads of heart.
Book Scavenger – Jennifer Chambliss Bertman
This is the first in a middle-grade series about a girl who loves books and solving puzzles. My 10-year-old daughter devoured it and begged for the next one which was published this year. The story is fun, filled with puzzles and a mystery, but best of all you too can become a Book Scavenger once you've read it!
(link to Booktopia via image)
This book should be compulsory reading for every senior school student. It is a masterclass in short story writing. Edgy, uncomfortable but unputdownable.
When a book is on the Times Bestsellers list for weeks on end it's usually a sign that the story is something special. Written in response to the Black Lives Matter movement in the US, this is a book bursting with heart and meaning but most importantly it's a great story, written really well.
Although this middle-grade book has been around for a while and the movie was released last year, if you haven't read it, do.  It explores grief and terminal illness in a unique, sophisticated and relatable way.
Meet reviewer Renee Mihulka…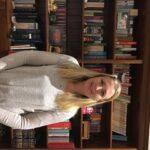 Renee trained as a secondary school teacher but fell into the world of corporate training instead. Despite this twist of fate, her heart lies, and always will, with children's literature. Her shelves are lined with tattered Roald Dahl's, Famous Five's, Trixie Belden's, Judy Blume's and a pristine set of the series 
Tomorrow

 When the War Began,
 that no one is allowed to touch. She also lends out her copies of 
When You Reach Me
, 
Courage for Beginners 
and 
Everything is Changed
 to anyone who seems remotely interested in reading. She reviews for the NSW Writer's Centre and also on her own website 
reneemihulka.com
. An aspiring writer of middle grade fiction, Renee hopes that some day soon, one of her own books will have the privilege of being reviewed on Reading Time.