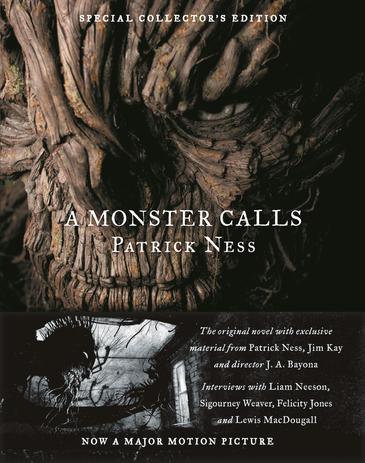 Patrick Ness (text), Siobhan Dowd (author), Jim Kay (illus.), A Monster Calls: Special Collector's Edition (Movie Tie-in), Walker Books Australia, Nov 2016, 357pp., $34.99 (hbk),  ISBN 9781406365771
This hardback special collector's edition of A Monster Calls is graphic and captivating; comprising of the illustrated story as well as exclusive behind-the-scenes interviews, illuminating sketches by illustrator Jim Kay, and other content about its development and film-inspirations. Author Patrick Ness took inspiration from the late writer Siobhan Dowd's early ideas, creating this emotionally-charged, fantastical and honest story following her death from breast cancer in 2007.
Thirteen-year-old, Conor, is navigating his way through layers of complex emotions whilst dealing with preparing for losing his cancer-suffering mother (although at first he denies the reality) and being a bullied outcast at school. He experiences darkly disturbing nightmares, which become more fully understood with the help of an ancient and wild yew tree monster (Conor's sub-conscious and inner turmoil) appearing in his dreams. The monster presents three particular tales outlining complexities of the human mind and how emotions can power one's (sometimes unexpected) behaviour. The interwoven stories neatly reflect the issues present in Conor's real life, but there is a final story, which Conor has to tell, about admitting the truth – the real truth. This is when it all comes to a head, and he is forced to finally 'let go' of his dying mother.
Aside from his mother, it is important to note the other defining characters in Conor's life – his best friend, Lily, the only one who really 'saw' and supported him through his hostile, isolating school life; his mostly-absent father, who, despite his fleeting presence during this difficult time did somewhat make an effort to include Conor in his life; and his Grandma, appearing cold and intolerable from the outside, but becoming the last remaining, and pivotal, connection with his mum after she was gone.
The story had me guessing and wondering (and sobbing) from the beginning. I half expected some sort of twist at the end, mainly because the yew tree monster plants the seed, so to speak, questioning the teenager as to whether his reality is in fact his nightmare. But this conclusion did not disappoint (despite the sobbing) with its deeply powerful, human, raw and evocative end.
A Monster Calls, with its complementing textural ink marks and mixed media that form the haunting and powerfully stirring illustrations, is poignant, gripping, funny and achingly sad all at the same time. A beautiful fable of life, love and complex relationships, thrusting young adolescents from childhood into adulthood. This chilling, heart-clutching novel is one of a kind.
Reviewed by Romi Sharp