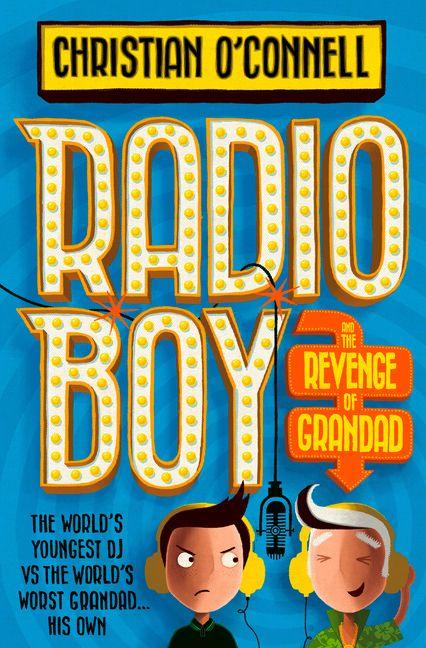 Christian O'Connell (text), Rob Biddulph (illus.), Radio Boy and the Revenge of Grandad (Radio Boy #2), HarperCollins Australia, 11 Jan 2018,  368pp.,  $14.99 (pbk),  ISBN: 9780008200596
The second in the Radio Boy series by Christian O'Connell, Radio Boy and the Revenge of Grandad is a unique, funny, action-packed read that this sure to entertain.
Radio Boy – Spike Hughes, is the star of his own radio show, broadcast from his garden shed with the help of his best friends, music guru Artie and producer Holly. When Spike invites his Grandad Ray, fame seeker and failed cruise-ship singer, onto the show, the listeners love him at first. But artistic differences soon cause a rift between Grandad Ray and Spike which leads them to compete head to head in Kool FM's competition to find a new radio presenter. Spike knows winning the Radio Star competition is his chance to hit the big time but can he really win when up against his singing Grandad and arch nemesis, Principal Harris?
Beware, this book gets off to a slow start, but if you can push through a slightly muddled and meandering first few chapters, the story begins to pick up and come together. There are lots of little plot side-lines to keep even the most distracted reader interested with loads of funny bits and just enough serious bits hidden among them, to give the story substance. I loved the original illustrations by Rob Biddulph, they really added to the books energetic and fun feel.
The characters are vivid and compelling, Spike comes across as a believable, likeable but still fallible kid and his friends, food-lover Artie and army-cadet Holly, prop him up in the best way. Grandad Ray really shines — but not in a way you would expect a Grandad to shine — which was not only entertaining but a fresh portrait of an often stereotypical character in kids books.
Christian O'Connell, the author, hosts his own commercial breakfast radio show in Britain and his experience as a real life radio presenter shines through. The song references peppered throughout, as well as the insight into how radio shows are produced, gave the usual kid jokes and tropes a new twist, making them fun and fresh.
Radio Boy and the Revenge of Grandad is aimed at middle grade readers aged eight to twelve.  Kids who like the Middle School series by James Patterson and Diary of a Wimpy Kid series by Jeff Kinney will be sure to like this book too.
Reviewed by Renee Mihulka