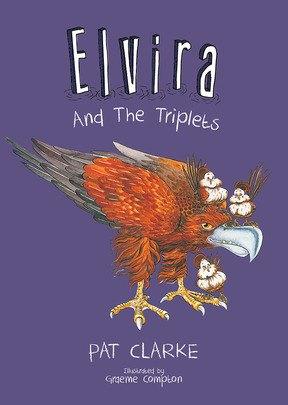 Pat Clarke (text), Graeme Compton (illus.),  Elvira and the Triplets,  Little Steps Books,  1 Dec 2017,  85pp.,  $24.99 (hbk),  ISBN: 9781925545616
Elvira and the Triplets is the latest book in an Australian Bush series by author Pat Clarke. Beautifully presented in large, hardback format, the story is set in the Aussie bush around Dubbo.  In this book we welcome the return of some characters from Pat's previous stories, including Wally the White Cockatoo and Pookie the Pilliga Mouse, as well as Elvira herself.
When Elvira's mate Byron goes missing, Elvira the wedge-tailed eagle wants to go looking for him, but with three almost-ready to hatch eggs, she can't leave her nest. Desperate to find out what happened to Byron, Elvira comes up with a unique babysitting solution. Meanwhile, nine-year-old Tom sets off on a camping adventure in the bush with his dad when he sees a semi-trailer hit a large bird. Begging his dad to investigate, they rescue the animal and take it to the local vet. These two story threads entwine as the tale about Elvira the eagle, Tom a boy with a love for the bush and three cheeky chickens unfolds.
I love that this book is authentic and uniquely Australian without falling into the usual Australiana tropes. Kids will love all the bush animals, their unique personalities and the situations they face as they all rally behind Elvira and her chicks. The author's obvious love of the Australian bush and its wildlife shine through and you can't help but be touched by it.
A great read-out-loud bedtime book, the large format chapter book is perfect for kids in that stage between picture books and chapter books, although it's a tale that will be enjoyed by kids that are younger and older too.
The water-colour illustrations by Graeme Compton are suburb and elevate the story. His renditions of the various Australian animals are superb —from the snail on page one to the winking possum at the end, (although I have to admit I have a soft spot for the goanna).
Elvira and the Triplets is a lovely, engaging Australian story about a strong, caring and determined wedge-tailed eagle and a boy who seems to have a special connection with eagles and the Aussie bush.
Reviewed by Renee Mihulka