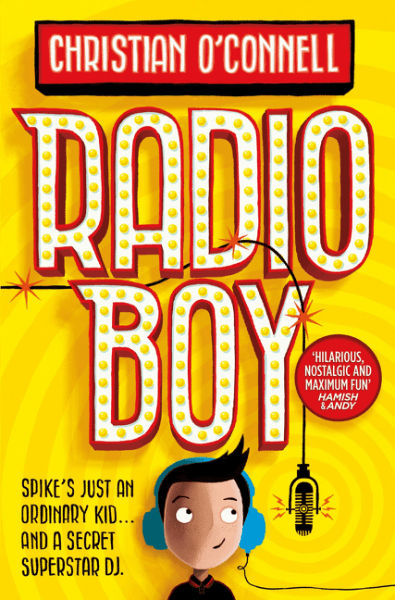 Christian O'Connell, Radio Boy (Radio Boy #1), HarperCollins Australia,  1 March 2017, 368pp., $14.99 (pbk), ISBN 9780008183325
I admit I was sceptical when this celebrity-written book popped up for review. But I was pleasantly surprised by this fast-paced, funny story about a boy and his friends who start The Secret Shed Show. From the first page, when Spike is sacked from his hospital radio show, the story is full of action, humour and pathos.
Written by Christian O'Connell, presenter of Britain's biggest commercial breakfast radio show, the story chronicles Spike's ambition to be a daring and funny radio jock. With the assistance of his two best friends, Artie and Holly, he sets up a radio station in his back shed. The show needs to be secret because it is in competition with Merit Radio – a show compared by the son of the principal Mr Harris – which highlights academic achievements of pupils. It also needs to be secret because Spike (and his accomplice father) assumes his mother would be dead against it. So Spike is the unknown 'Radio Boy', Artie is his music director 'Elvis' and Holly remains in the background 'doing tech'.
The trio wind up creating a hugely popular show which kids love. But, of course, the power goes to Spike's head. Mr Harris becomes increasingly outraged by the show which parodies him. And eventually, things go pear-shaped when Spike invites the students of his school to strike against homework.
I think mid to late primary kids will love this story; particularly the extensive mocking of the principal (who, by the way, ends up carted off in a divvy van). It's funny in the same vein as the hugely popular David Walliams books. But it also ends well, with Spike learning that it's okay to be himself and that maybe that self has more to offer than he realised. He also learns the value of friendship and humility.
Highly recommended!
Reviewed by Heather Gallagher