Reviewer Liz A shares her favourite books of 2016…
Timeline : A Visual History of our World – Peter Goes
Monochrome genius. So much illustration packed so cleverly into the flow of history. Literally hundreds of small black on white or reversed out drawings with colour tints fill large format pages. This book shows that information giving can lead with pictures. The words are there to compliment them, not the other way around.  Its also wonderful to see a history book so up to date that the last six spreads all happened since I was born.


Comet In Moominland – Tove Jansson
First published in Finland on 1946.  I grew up with the Moomin family, loving the mixture of their make-believe land and characters with very real human troubles. In this story the 'children' journey to find out about the comet that is hurtling towards Earth. It's seriously scary in parts but my best bit is where they cross the seabed dried up from the comet's heat.


The Summer Book – Tove Jansson
First Published in Sweden in 1972.  I love this book because it is about the cosiness of small things: an island, time alone with your grandmother. It is about the warmth of a smooth pebble in your pocket and what it feels like to get grumpy with the people you love most.


Let's Explore Diabetes with Owls – David Sedaris
Short stories that do with words what I try to do with drawing – take out little bits of memory and shake them into recognisable and entertaining shapes.


A bit about reviewer Liz Anelli…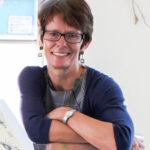 Liz has a first class honours degree in Graphic Design from Leicester Polytechnic in her homeland of England. Over the years she's had various design jobs  – at The Natural History Museum, London and the BBC – alongside freelancing as an illustrator and has taught Design in UK universities.  Since relocating to Australia, Liz has continued to illustrate picture books, editorials, websites and huge storymaps for museums. She was awarded an ASA grant to research the Nature Story Desert Lake book by Pamela Freeman.  Liz is an ambassador for Books in Homes.  http://lizanelli-illustration.com