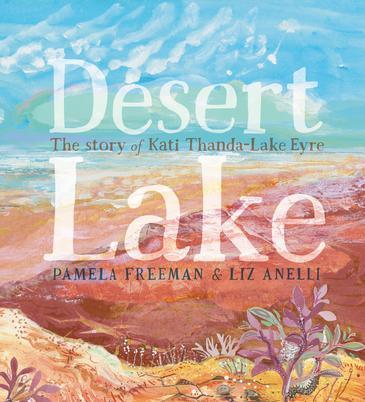 Pamela Freeman (text),  Liz Anelli (illus),  Desert Lake : the story of Kati Thanda – Lake Eyre (Nature Storybooks),  Walker Books Australia,  1 June 2016,  32pp.,  $24.99 (hbk),  ISBN: 9781921529436
Desert Lake is another in the divine series of Nature Storybooks by Walker Books. Encapsulated by beautiful illustrations and a fluent and highly descriptive narrative, the story of Lake Eyre comes to life in all its tough glory. Through a beautiful combination of text and illustration, we are shown the beauty and harshness of the environment, the transience of much of the animal population and the evolutionary features that allow both plants and animals to survive in this unique place.
Lake Eyre is the central character in this story and the rains, the animals and other smaller elements are merely players in the narrative. Freeman's telling of the story of the Lake is a study in the effective use of verbs and adjectives and she expertly uses personification to instigate intimate connections with both the creatures and the lake itself. Throughout the book, narrative and informative texts run parallel. Though potentially divisive, this format is successful because the information relates directly and succinctly to the information above and is included only when necessary to educate and validate the story. Different font and text size keep the two clear and separate from each other.
Whether close ups of flora and fauna or distant landscapes, the illustrations by Liz Anelli are delightful. She uses mixed media to create visions which provide both emotive and descriptive details; often with the landscape background as the most prominent feature. Colour, texture and movement across large sections of sky and earth highlight the changing states of the landscape that somehow draw you into feeling the place. These images are the perfect complement to Freeman's storytelling and both emit a strong sense of constant change.
This is essentially an older children's informative picture book – simple enough to be accessible to junior primary grades but with enough detail, facts and related environmental issues as to extend even mature readers.
What a significant and momentous occasion the rains are in this important place. To be blessed with such a sense of the place, on paper, is superb.
Reviewed by Katie Bingham