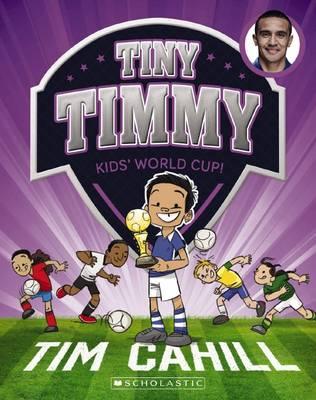 Tim Cahill, Kids' World Cup (Tiny Timmy #4) Scholastic Australia, Nov 2016, 128pp., $12.99 (pbk), ISBN 9781760273668 
Written by Australia's top goal scorer, Socceroos legend: Tim Cahill, Kids' World Cup  is the fourth instalment in the light-hearted and entertaining Tiny Timmy series.  Aimed at young readers (7+)
Every young footy fan will understand the excitement that the World Cup brings and Tim Cahill captures the atmosphere perfectly as Timmy and his friends are back feeling the tense hope and anguish of their favourite players on the big screen when the international tournament begins. But seeing how the pros handle the disappointment of losing a match is going to be a valuable lesson for Timmy and his pals as they prepare for the school gala day and a chance for their team, the Lions, to win a trophy of their own.
The plot is easily accessible with its familiar characters, including the humorously named adult characters like Coach Roach, and the fast-paced, short chapters. Heath McKenzie's comic cartoon illustrations break up the body of text with plenty of variation and special effects to either emphasise or give a sense of movement to important words and phrases. The author is also careful to include plenty of exciting match commentary, group results tables and football terminology such as tap-in and breakaway goals, for enthusiastic football fans.
Kids' World Cup really outlines the importance of healthy preparation with tips and hints sections about how to prepare properly for a match, all handwritten by Timmy and his friends and accompanied by fun, helpful diagrams. Hacker and Studs, the 'tough guys' who always provide a good dose of slapstick comedy throughout the books, demonstrate the consequences of not eating and preparing properly before play.
This book really focuses on how Timmy and his friends deal with disappointment and losing an important match.  It highlights the importance of trying your best and feeling proud when you have made a real effort, even when things don't go your way. I also really like the way the author uses Kids' World Cup as a platform to encourage young readers to take part in sports, even with limited resources and space; the concept of sock-er (hallway soccer with a rolled up pair of socks) is genius.
The Tiny Timmy series will make great first chapter books for young or reluctant readers and are a real treat for all budding soccer enthusiasts.
Reviewed by Lisa Hoad