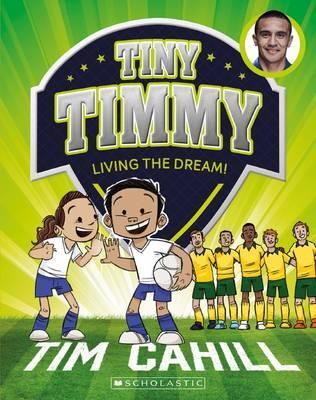 Tim Cahill, Living the Dream (Tiny Timmy #3) Scholastic Australia, July 2016, 128pp., $12.99 (pbk), ISBN 9781760273651
Written by Australia's top goal scorer, Socceroos legend: Tim Cahill, Living the Dream is the third installment in the light-hearted and entertaining Tiny Timmy series.  Aimed at young readers (7+), Living the Dream offers an action packed, humorous, and as you might expect, soccer-obsessed read.
Previously, we have seen the main character, Tiny Timmy, earn his place on the school team despite his size (book #1) and use an initially disappointing stint on the local rep team bench (book #2) to learn and grow his skills as a super-sub.
This time, Tim makes a friend in Sienna: the new girl at school who not only shares Tim's passion for soccer but possesses some serious ball skills.  Together they enter the soccer trick competition and win the chance to be ball-boys for their heroes at their big game.
I love the way Cahill uses the introduction of this new female character to highlight some of the misconceptions his (perhaps predominantly male) readership may have about their female peers.  And, as the author calls out in his dedication, redresses the gender imbalance in previous books. All the books in the series share the important message that persistence, practise, and a little help from our friends, is the way to overcome adversity and achieve our goals.
The plot is easily accessible in its faced-paced simplicity and accompanied by Heath McKenzie's fabulously comic cartoon illustrations.  I particularly enjoyed the tiny figure drawn in the bottom right-hand corner that performs Tim's winning juggling trick, the Christmas tree, when you flick through the pages.
The body of text includes plenty of variation and special effects have been used to emphasise or give a sense of movement to important words or phrases. Young readers will also enjoy the match reports, juggling trick diagrams, and the real-life player facts that crop up throughout the story.
The characters and their relationships are all straight forward and uncomplicated with Tim, his friends and brothers, all relatively good natured, whilst the 'tough guys' Hacker and Studs provide much of the slapstick comedy moments, as readers enjoy discovering their secret love of cuddly toys, and seeing their sneaky hare-brained schemes fail.  Even the adults have humorous names like Coach Roach and Mrs Hush, making their behaviour entirely predictable and reassuring to young readers.
Living the Dream could easily be used as a platform to inspire some fun written pieces such as soccer commentaries, fact boxes or sports hero profiles. It would make a great first chapter book for young or reluctant readers, and a real treat for all budding soccer enthusiasts.
Reviewed by Lisa Hoad