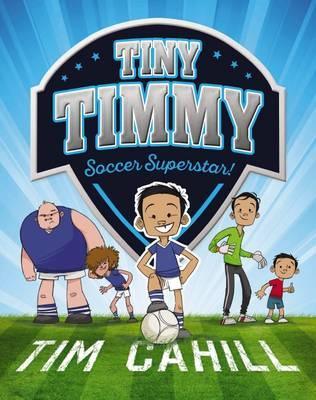 Tim Cahill and Julian Gray, Soccer Superstar (Tiny Timmy #1), Scholastic Australia, 1 Nov 2015, 128pp., $12.99 (pbk), ISBN: 9781760158880
Tiny Timmy is another sport book written by a sporting hero – in this case soccer star Tim Cahill. It follows a plot typical of many children's sports novels.
Tim would love to be on the school soccer team.  But he is just too tiny to be able to make a real contribution to the game.  Tim is disappointed when Coach Roach decides to nominate him as "Orange Boy", instead of giving him a real "playing" place on the team.  With enthusiasm for the game and lots of effort and practice, as well as a discovery that he has a special talent for heading the ball, Tim finally gets a substitute place on the bench.  Predictably, he uses this opportunity to score a match winning goal  – and just before the whistle for full-time, too.
What the book lacks in originality of plot, it makes up for in humour and a light-hearted, playful tone.  Tim's good-natured attitude to his slapstick mishaps as well as his harebrained schemes to try to grow tall faster, make the story funny and amusing.
Variations and special effects for the text, as well as amusing cartoon style illustrations, enliven the book and add to the sense of cheerfulness and playfulness.
This book is in bridging novel format with plenty of illustrations and usually five or six sentences per page, making it suitable for Yr 2- Yr 4 readers or older reluctant readers.
With characters who are mostly boys and the humour sometimes slapstick, this book appeals to mostly male readers, especially those who are interested in soccer.
Reviewed by Barbara Swartz