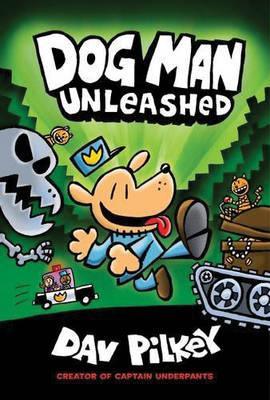 Dav Pilkey,  Dog Man Unleashed (Dog Man #2),  Scholastic Australia,  Jan 2017,  244pp.,  $15.99 (hbk),  ISBN: 9780545935203
Dog Man continues his heroism in Dog Man Unleashed while also managing to annoy his workmates and the owner of his favourite pet store.
What starts of as a simple trip to the pet store to buy a fish to give to the Chief as a birthday present ends up becoming a big problem for everyone. The fish ends up eating something that makes it super clever and sinister. It finds a way to disguise itself while causing trouble everywhere.
Dog Man faces multiple enemies in this book. Petey the cat has found a way to escape prison and wreck havoc in the city. He is making everyone love him and give him all their money and jewelry.
Then there's Paper Petey – the paper cat that Petey made which ended up coming to life. Although he's two dimensional, he's evil too! Then finally, there is the mysterious villain wearing the Chief's clothes that can move things with his mind. Dog Man's enemies are all over the place!
Pilkey's book caters for chapter book readers who are looking for a hilarious graphic novel. My eight year old says the funniest bit of the whole book is everything.
"Dog Man is a hilarious book. I think it's a four and a half star comic book" (with five stars being the highest).
What entertained her even more were the various Flip-O-Rama sections where you flip two pages really fast to make animated cartoons.  At the end of the book, there is an easy drawing tutorial for the characters of the book – a good way of extending the Dog Man experience even after you've finished reading.
If your child is looking for a fun graphic novel then this is a good one to start with. It will also encourage those who are not into reading to open a book and enjoy it.
Reviewed by Kristyn Levis