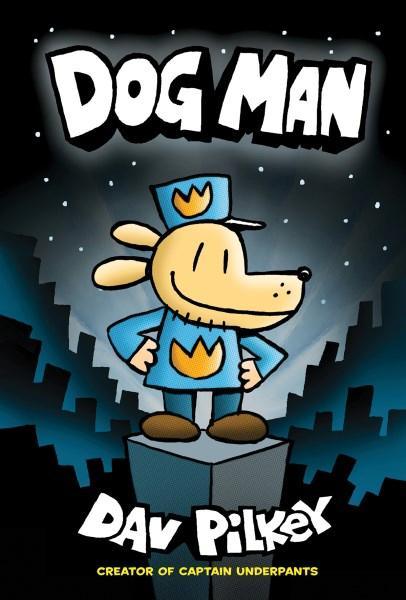 Dav Pilkey, Dog Man (Dog Man #1), Scholastic Australia, Sept 2016, 240pp., $15.99 (hbk.), ISBN 9780545581608
Dog Man opens with a 'behind the scenes' explanation: some time ago, George and Harold met in kindergarten, became firm friends, and started to create comics together. Despite the runaway success of their Captain Underpants series, they have now decided to return to their original idea: Dog Man, a justice-serving amalgam of a dog's head supported by a police officer's body. (You'll understand how this came about when you read the book.)
Dog Man's nemesis is Petey the cat. More often than not, Petey is in gaol, but (also more often than not) he manages to escape and create havoc for the good citizens of Dog Man's town. The book unfolds in four chapters, each telling a discrete tale in which Dog Man is ultimately triumphant. In chapter three, for instance, Petey realises that Dog Man is smart because the latter reads books. Petey's solution is remove all the words from the world's books. Everyone becomes very stupid until Dog Man reverses the global effects of Petey's 'Word-B-Gone 2000', thereby restoring sanity – and intelligence – to the world.
Presented in graphic novel format, Dav Pilkey's four stories are filled with humour (often of the kid-centric corny or toilet variety). Each page has a maximum of 20-30 words, contained within 3-6 full-colour frames. The large text is designed to seem 'handwritten', complete with crossed out words and the occasional mid-word capital letter – much as text from a child learning to write would look. There are also intentional spelling and grammatical mistakes (e.g. 'You Reeka' and 'the world's most greatest cop'). The narrative 'voice' is clearly that of a child.
In his 'About the Author' interview on Scholastic's website, Pilkey explains that he is 'secretly trying to inspire kids to write, and to create their own stories and comics'. His personal experience of dyslexia and ADHD prompted him to create books that specifically 'show kids that they can be creative without having to worry about being perfect'. Dog Man's text, comic style, subversive humour and self-contained chapters provide a welcoming environment for all young readers, including those who struggle with deciphering text.
Australian readers will be exposed to some American cultural references and US spellings in Dog Man. A second book in the series is due for publication in January 2017.
Suitable for ages 7+
Reviewed by Tessa Wooldridge