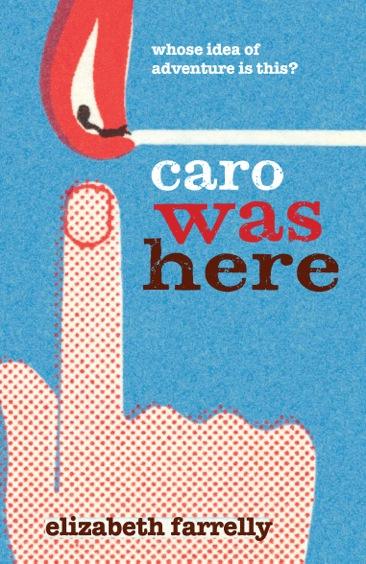 FARRELLY, Elizabeth Caro Was Here Walker, 2014 312pp A$16.95 NZ$18.99 pbk ISBN 9781922244833 SCIS 1672441
Today is the second last day of term and Caro is determined to win the election for the post of Winter Captain.  The only drawback to that certainty is the new girl Ellen Aurelia Dufresne who is American, hot, and furthermore, has three names.  Forced to sit next to dorky Nigel on the bus, Caro is seething with annoyance by the time they reach school, and a horrible day of frustration and misunderstandings follows.  Caro is so fed-up that she decides to take the last day of term off and enjoy her twelfth birthday all by herself.  However unforeseen circumstances mean that she soon acquires a following of her seven-year-old brother, the scorned Nigel, her best friend Tattie and the dreaded Ellen.  Determined not to let anything spoil her adventure, Caro sets out on a Sydney ferry to explore one of the Harbour islands.  Naturally the expedition becomes one disaster after another as wilful Caro refuses to listen to sound advice from her companions.  Hereafter follows an exciting tale of a night camping on the island, trying to elude some other extremely dangerous and dodgy inhabitants and the need to invent some creative survival skills.  How the kids make it through the night makes an entertaining and exciting story, by the end of which each has come to appreciate the skills and character strengths of the others.
Headstrong Caro can be irritating, but she is also lively and resourceful, while the characters and dialogue of the kids are engaging, often funny and insightful.  While the villains are a little less believable, this is an enthralling adventure romp for upper primary readers.
reviewed by Chlöe Mauger