Elizabeth Farrelly tells Reading Time how her own love of adventure and story resulted in her new novel for younger readers, Caro Was Here…
People often think it's a bit weird for an architecture writer and opinion columnist to take up children's fiction.  But to me, fiction seems the perfect flip-side to critical analysis.  The last chapter of my second book, Blubberland, paints a possible planetary future.  Reading it, my publisher accused me of being a closet novelist.  I realised she was right.  For me, writing fiction engages the same curiosity about how character and place weave together into narrative as urban design critique – but fiction is better.  Fiction takes you straight to the moral heart of that character-place relationship.  This is why story – page turning, beginning-middle-end, whole-new-world-type story – is what I love.
A novel is the best and most satisfying form of story, because a novel is a world you can inhabit.  Even when you're not actually reading the book, a part of your mind can still dwell there, enjoying the mysteries of place and unexpected twists of character.  A novel gives time for change.  It allows character to develop, power relationships to reverse and familiar assumptions to be tested beyond recognition.  A novel takes you on a strange and unexpected journey, like a river-cave ride.  It is the ultimate adventure.  Novels are cool.
This particular novel starts, I guess, with me.  I was born in Dunedin, at the cold and romantic end of New Zealand, but grew up mostly in leafy suburban Auckland, the only city I know that sits on 48 volcanic cones.  There was lots of nature stuff – sailing, rowing, fishing, camping and (what Kiwis call) tramping.  We walked or cycled to school and afterwards, rampaged barefoot through back hedges, churchyards and empty lots until well after dark.  For an avid reader of myths, legends and adventure stories, this relatively unsupervised childhood offered endless opportunity for imagination and landscape to intertwine.  Much of this comes out in Caro Was Here.
I wanted to write a real-life, contemporary adventure story for children: to evoke the here and now in a way that, far from feeling mundane, resonates with the magic of a child's-eye view.  Sydney in particular is so intensely beautiful, such a light-and-shadow, chiaroscuro kind of place.  I think it is under-represented in our literature, perhaps especially stories for children.  Also, I suspect I'm an adventure addict.  I still love situations that are open-ended, where the outcome is unknown and unpredictable.  I read crime for that reason.  Not just any crime, either, but stories that are fast-paced, character-driven and offer an intense evocation of landscape, ideally where place plays an almost active part in plot.  James Lee Burke is a particular favourite in this regard.
The intensity of crime as a genre arises from the way it dramatizes the play of good and evil in a landscape.  I think of Caro Was Here as crime for children; a story where evil, both external and internal, is clearly present and strongly felt.  For me, as a writer and as a reader, plot is essential – but of course the best plots arise from character.  I am interested in how the children's characters intersect, how that intersection drives the narrative and how the story itself forces the characters to change.  I find that the characters in the story, in particular Caro, Ned and Nigel, have become my friends.  I'm fond of them.  They make me laugh, and sometimes cry.  I care what happens to them.  This makes the writing a delight.
I wanted, therefore, to see the characters tested.  I wanted them to generate, and be forced to resolve, a situation they could neither control nor predict.  In particular I wanted Caro, as the female lead, to have to use her intelligence to resolve a seriously threatening predicament.  I suppose this is in part a gender-balance thing, but it also seems to me true to life.  (In fact at least part of this story was based on a particular island misadventure I had as a child.) And yet I hope that Caro will appeal irrespective of gender.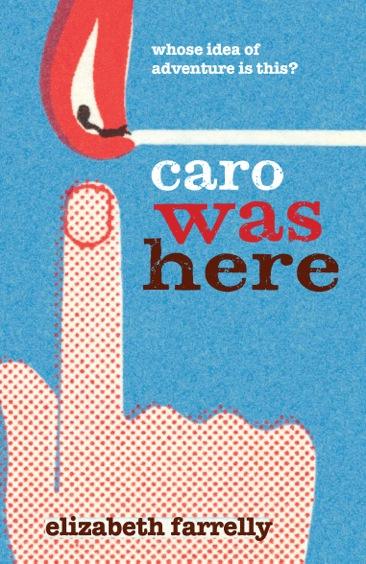 It is a story about freedom and naughtiness, about the relationship between the individual and the constraints and expectations of society, about whether you can be too brave.  Caro Was Here is a story about friendship, loyalty, trust, betrayal and the failure of perception.  It's about how even your close friends can surprise you, both with who they are and with what they know or do not understand about you.  But above all, Caro is an adventure.  It's about the wild yearning for adventure, the trouble that this yearning can generate, and the thrill that (sometimes) makes it worth doing anyway.  It's about courage and the cost of courage.
I wanted to write a story that captured the magic with which a child sees the world, the real world in particular.  I wanted to set the story in Sydney, which I think is breathtakingly beautiful and somewhat under-written, if you'll forgive the awkward phrase.  And I wanted to write an adventure story with a purposeful plot and a girl in the lead; a story where a girl must draw on all her courage and strength and, in the end, intelligence, just to survive.
What do I hope?  I hope you read Caro.  I hope you share her uncontainable frustration, her yearning for freedom and her crazy courage; the thrill and the laughter.  I hope her terrifying island birthday is so vivid you can smell it.  I hope you love the characters and want to hear more.  I hope you like it so much that I get to write the next story, the story of Nigel Numbnuts.