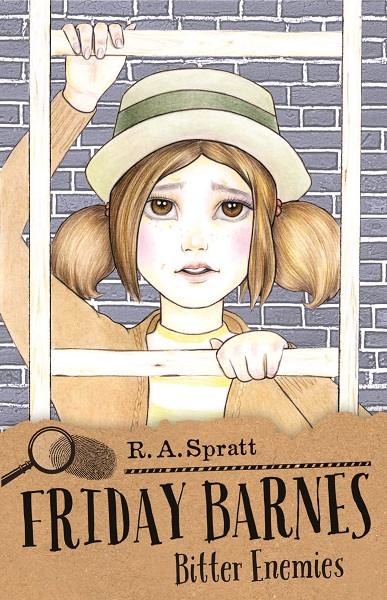 R. A. Spratt, Bitter Enemies (Friday Barnes #7),  Penguin Random House Australia,  31 July 2017,  251pp.,  $15.99 (pbk),  ISBN 9780143784197
This is the seventh novel in the Friday Barnes series. At first Friday is whisked off to Switzerland where her parents continue to ignore her, then has to flee back to the old school, Highcrest Academy, and her companions in mischief, Ian and Melanie. As the school is about to celebrate its sesquicentenary, all four previous Headmasters have been invited to attend. They turn out to be a bunch of rogues, and it is up to Friday to unmask them.
Spratt creates a cast of intriguing characters to support the irrepressible Friday. There is Ian, who teases Friday unmercifully; Melanie, who suffers from the after-effects of sleeping sickness; Abotomey, who is in love with Melanie, and the current headmaster, Mr Wainscott, who needs Friday to solve his problems, despite finding her infuriating.
Spratt writes with great wit and a remarkable understanding of how annoying clever students and bad-tempered adults can be. She is definitely on Friday's side, however, so that the reader can always see through the posturing of adults. Good readers from about ten years old will appreciate Friday's difficulties in a world where the students are able to see what is happening well before the teachers.
Reviewed by Stella Lees