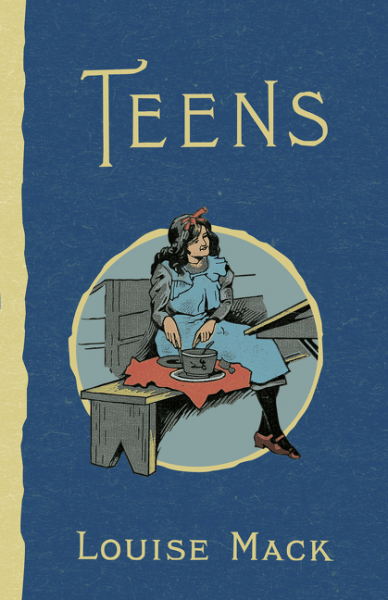 Louise Mack (text),  Frank Mahony (illus.),  Teens, HarperCollins Australia, 2 August 2017, (first published 1897), 224pp.,  $14.99 (pbk),  ISBN 9781460750797
It was a pleasure to re-read this one-hundred-and-twenty-year old school story. Mack based it on her time at Sydney Girls' High School, where she was a friendly rival of Ethel Turner. It was the first Australian school story set in a state high school.
The modern teenage reader may find it somewhat insipid beside the novels of Marsden, Rubinstein, Metzenthen and Winton. It does not probe the depths that contemporary writers do, and the thirteen- and fourteen-year-old characters are well protected from the complexities of a society which was then undergoing national strikes, with the Boer War in the offing. Mahony's illustrations have them as almost adults in their hats,  with small waists and developed bosoms.
Despite that, it displays beautifully written compassion for girls and adults who care about each other. Some incidents may startle the more sophisticated young reader – Lennie is kissed by her beloved teacher, Lennie and Mabel and Lennie's two younger sisters leave home around 3.30am to walk for an hour in the bush in order to watch a sunrise at Govett's Leap. Of course, no harm comes to them. Lennie brings a book to school which is confiscated by the headmistress, who has not read it, and Lennie's father is called in.
Lennie is no perfect heroine. She lords it over her younger sisters and she is very impulsive. She has a strong desire for revenge if she is thwarted.
Lennie and Mabel and some of their friends write a school magazine, The Chronicle, which Turner and Mack did in reality during their time at Sydney Girls' High. That incident is fascinating, because of what The Chronicle contains, how they paid for it, and how little it cost to be printed. Teens concludes as Lennie and Mabel part.
Mack wrote two books following their lives: Girls Together and Teens Triumphant.  Like her talented sister, Amy Mack, she wrote poetry and many other books as she proceeded through her adventurous life. She travelled to London and Europe, became a war correspondent, lectured overseas and in Australia, and wrote a column for the Australian Women's Weekly. There is a biography by Dr Robyn Sheahan-Bright included in this edition.
Reviewed by Stella Lees