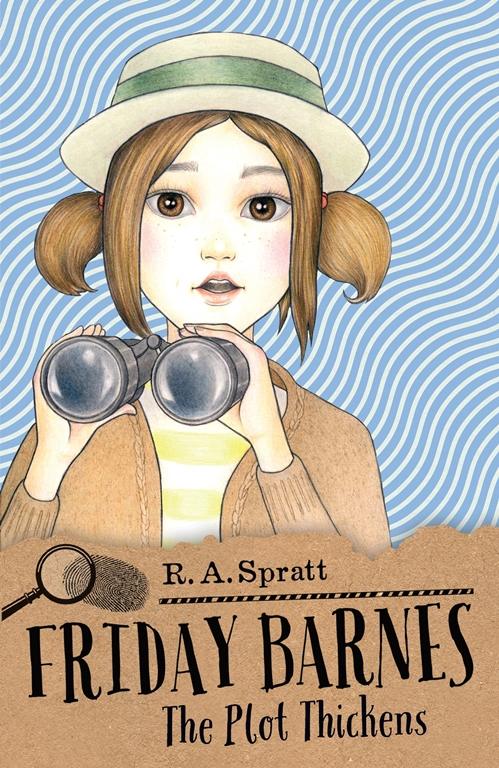 R. A. Spratt, The Plot Thickens (Friday Barnes #5), Random House, 1 August 2016, 256pp., $15.99 (pbk) ISBN 9780857989932
When my eight-year-old twin girls drive me crazy, I sometimes threaten to send them to boarding school… It's an empty threat and they know it, but it does pique their interest in how boarding schools work. They're especially curious about when the children actually get to come home!
The Friday Barnes series gives them a taste of boarding school life, set at exclusive boarding school Hillcrest Academy. The story opens with the students eating copious amounts of ice-cream – with the headmaster's approval. (Perhaps I'll need a new threat for my kids!) New South Wales author RA Spratt cleverly sets the scene, introducing the main characters and referring to incidents in the past book with just enough information to familiarise the reader, without boring those who have read the earlier stories. Then, dramatically, a parent – who is also a convicted criminal – sweeps in to withdraw his son from the school. Friday smells a rat and we quickly learn she is intelligent, quick thinking and unafraid to speak up for what is right – just the type of girl I want my twins to read about. And she has brilliant detective skills. My daughter was reading this section in the car and was so enthralled she kept pausing to tell me what was happening!
The Plot Thickens shows the repercussions of pranks gone too far and explores relationships between friends, with a new student and with two new teachers. The author gives depth to the teacher characters that children may not see in real life, and also pokes fun at them, for the reader's amusement. There's plenty of puzzles and mystery too for inquiring young minds, as well as some new vocabulary – but not too much.
I love the cover illustration of Friday by Gold Coast illustrator Lilly Piri. She has drawn Friday youthful and sweet and with an expression that makes us wonder what she's just seen through her binoculars.
My girls are looking forward to the next book Friday Barnes, Danger Ahead, which will be on sale in Australia in January 2017.
Reviewed by Carissa Mason