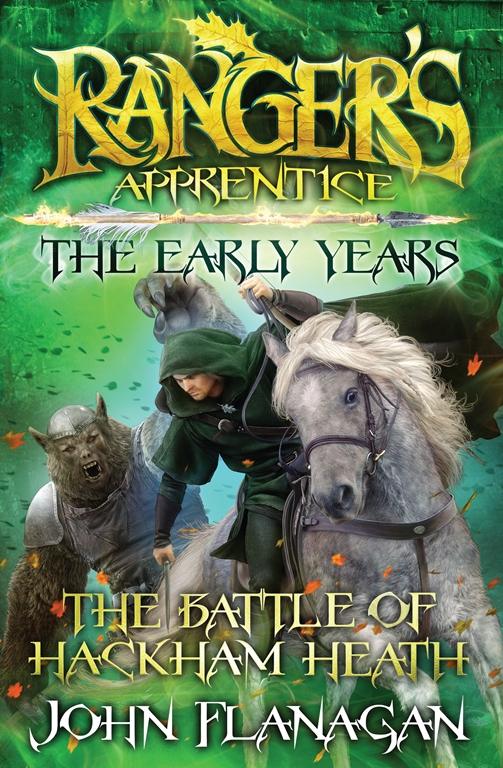 John Flanagan,  The Battle of Hackham Heath (Ranger's Apprentice : the early years #2),  Random House,  31 Oct 2016,  384pp.,  $18.99 (pbk),  ISBN: 9781742759326
This book is the second in the series, Ranger's Apprentice: the early years, a prequel series to John Flanagan's hugely popular Ranger's Apprentice books.
The book, a fantasy, is set in the imaginary countries of Araleun, Picta and Celtica. A map of these lands on the opening page is a great visual device to help cement locations in the reader's mind.
The protagonists, Halt and Crowley, are part of the Ranger Corp and, after playing major a part in reinstating the new king Duncan, to the throne "had achieved a level of some renown in the Kingdom". The succession is much to the displeasure of the former king Morgarath, who is not taking this change in circumstances lightly. Both Rangers know that the temporary peace will be shattered once Morgarath rebuilds his army's strength. As Halt comments, "People like Morgarath always make a next move".
The beautiful diplomat Pauline DuLacy informs Halt, Crowley and King Duncan that Morgarath is recruiting a tribe of creatures, Wargals, to act as his army. These creatures are reported to be a cross between bears and apes, so incredibly strong.
As with any quest, there is plenty of action and adventure, and it is easy to see why John Flanagan's books are so popular. The use of Albelard the talking horse, and other characters such as Norman the hermit, as well as the banter between the main characters Halt and Crowley, are an enjoyable contrast to the equally suspenseful, page-turning story. The wargals are a fierce and frightening foe, and Morgarath a cunning and battle-hardened enemy.
As the title suggests, it is at the Battle of Hackham Heath that the current fate of the kingdom will be decided. Can the rangers overpower Morgarath and the wargals? And, not surprisingly, as this book is the second in of a series—while the book does stand alone—it concludes with a teaser. Bring on the next book!
Reviewed by Jane Campbell