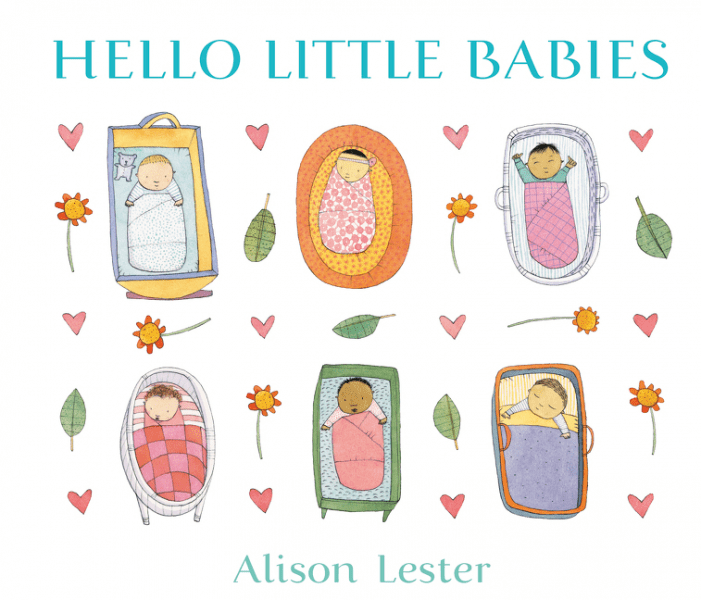 Alison Lester,  Hello Little Babies,  ABC Books/HarperCollins,  1 Dec 2016,  32pp.,  $24.99 (hbk),  ISBN: 978 0733330414
Hello Little Babies is the latest picture book by the phenomenal Alison Lester – former Australian Children's Laureate (2012–2013) and winner of countless awards, including the Children's Book Council of Australia's (CBCA) Picture Book of the Year Award in 2005 and the 2012 CBCA Eve Pownall Book of the Year Award.
A gentle story for the very young, Hello Little Babies welcomes six newborns, Alice, Ruby, Mika, Zane, Vikram and Tom to the world, and shares their progress over their first year of life. As they sleep, play, eat, move and explore, each baby shows their own personality, growing from tiny infants into adventurous toddlers. Using simple, lyrical sentences in a repetitive style, the book has a quality that will soothe and relax, making it perfect for repeat readings at bedtime!
In Lester's signature illustrative style, Hello Little Babies features white space and soft colours, amid a text layout that encourages early readers to point along with the words. Suitable for children from the very young to about four years, this is another classic to add to the home or early years' school library collection.
Reviewed by Kay Oddone