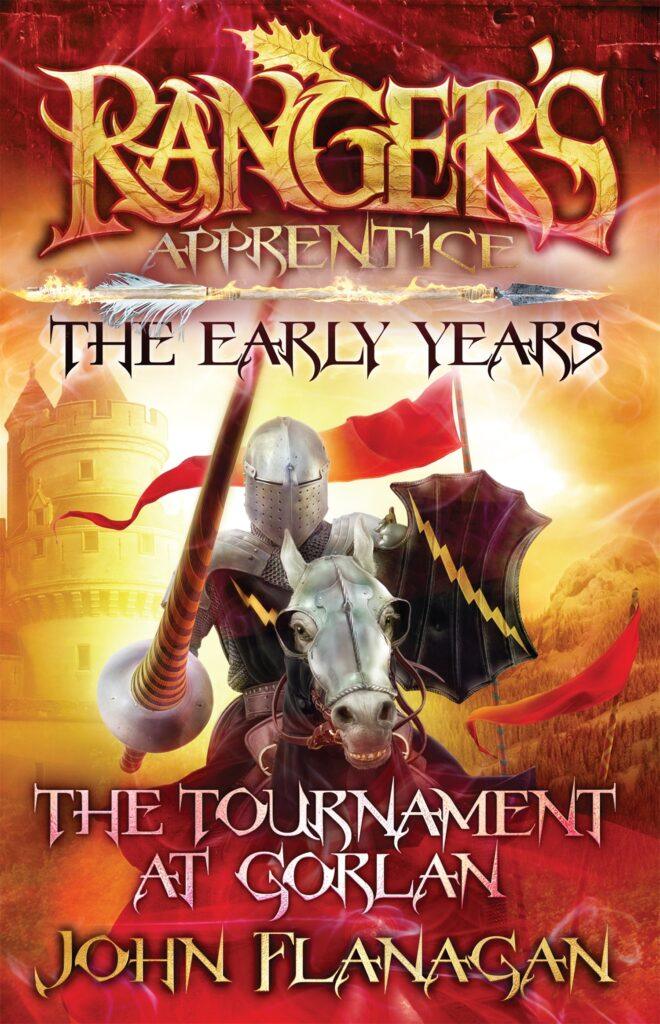 John Flanagan,  The Tournament at Gorlan (Ranger's Apprentice: The Early Years #1),  Random House, 16 September 2015,  400pp.,  $18.99 (pbk),   ISBN 9781742759302
This is the first novel in the Ranger's Apprentice: The Early Years series written by well-known Australian author John Flanagan. In a medieval-style world where highly skilled fighters called Rangers are called on to protect their king, the treacherous Baron Morgarath is drawing together disloyal knights and barons under his own banner. King Oswald is wasting away possibly poisoned by Morgarath and word has it that Prince Duncan is causing havoc in the north. Rangers, Halt and Crowley, discover the truth and set out to find the prince and re-form the weakened Ranger Corps. The tournament brings all to a head with an unpredictable twist and premise for the next instalment in the series.
Although written in Flanagan's faultless literary style the story moves along so slowly! Many times is the reader reminded of the quest and many times a simple fact is unnecessarily repeated within pages of each other. Although sprinkled with comfortable friendly banter between the main characters, it is humour that requires an adult's experience and, even with the Forward, the story relies on the reader having followed the building of the relationship between the Rangers in John Flanagan's previous books, which doesn't work as this story is supposed to occur earlier.
With the amount of experience and skill these Rangers purportedly have, the reader's first impression is that the characters are all in their thirties but we gradually learn that the main characters are barely twenty. With this in mind it is difficult to grasp the underlying themes of loyalty, leadership and resourcefulness.
Flanagan seems reluctant to build on conflicts with any meaty detail. We learn in conversation, lots of conversation, that the Rangers' weapon of choice is a longbow and that they have killed a few enemies but we aren't thrown into the battles. Mostly the Rangers get past enemies by hitting them on the head or punching them, but there is no feeling of the chaos expected in battle tales.
Recommended by many for 10+ years readers but the story will be lucky to hold the attention of a teen.
Reviewed by Sharon Smith