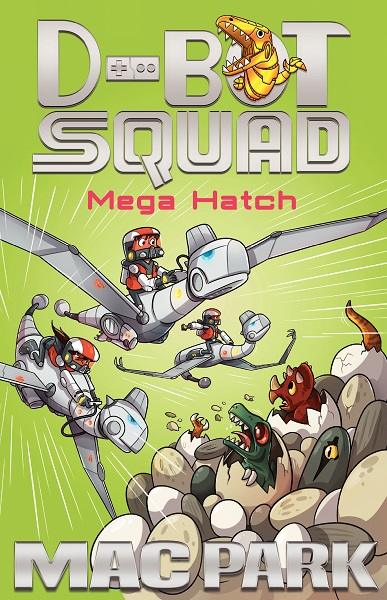 Mac Park (text), James Hart (illus.), Mega Hatch (D-Bot Squad #7), Allen & Unwin, Feb 2018, 80pp.,  $9.99 (pbk), ISBN: 9781760296032
Mac Park (text), James Hart (illus.), Dino Corp (D-Bot Squad #8), Allen & Unwin, Feb 2018, 80pp.,  $9.99 (pbk), ISBN: 9781760296049
These are books 7 and 8 in the D-Bot Squad series. Hunter, Charlie and Ethan are wrangling real dinosaurs in their D-Bots, dinosaur robots which can be built in different ways for different purposes. In Mega Hatch they need to capture six velociraptors, six ankylosaurs, and four triceratopses. In Dino Corp they need to deal with three tyrannosaurus rexes and an injured triceratops. How can they make D-Bots that can handle all that?
These books aren't standalone – each follows directly on from the last so the series needs to be read consecutively in order to make sense. The books are written by Louise Park and Susannah McFarlane who have collaborated on a number of other series for primary readers. This series is suitable for newly independent readers and is fast past and action packed. The book covers and dinosaur theme will no doubt especially appeal to boys. Suitable for public and primary school libraries.
Teachers Notes, downloadable activities and other supporting material can be found on the Allen & Unwin website.
Reviewed by Rebecca Kemble