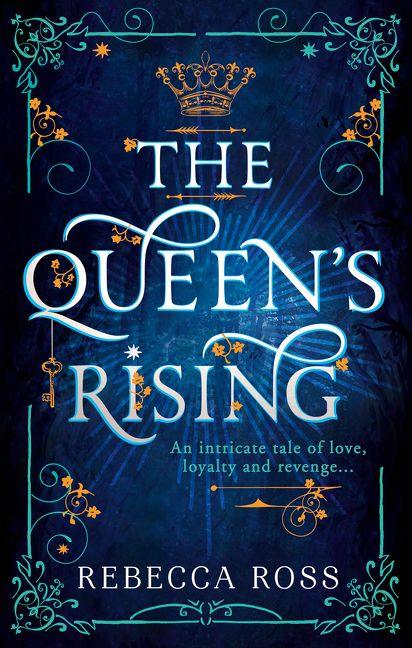 Rebecca Ross (text), Virigina Allyn (illus.), The Queen's Rising (The Queen's Rising #1), HarperCollins Australia, 19 Feb 2018,  464pp.,  $16.99 (pbk), ISBN 9780008245986
Rebecca Ross has a poetic and captivating style, at times whimsical and romantic, then subtly spotted with gore. Although the first book in The Queen's Rising series, this reads well as a stand-alone. The language was skilfully structured to enjoy at a fast pace. Although the conclusion is easily predicted, it felt satisfyingly resolved and yet holds the promise of much more to come.
Reminiscent of Renaissance France, The Queen's Rising is about Brienna Colbert, a young girl with only a maternal grandfather for family, growing up at Magnalia House in Valenia trying to develop one of the five passions—art, music, dramatics, wit, or knowledge. But Brienna develops a totally different skill. By her 17th birthday her focus is on becoming accepted by a patron but her ability to recall the memories of one of her ancestors finds her embroiled in a dangerous plot to overthrow the king of Maevana—the rival kingdom of Valenia – and restore the rightful queen, and her magic, to the throne. With war imminent Brienna needs to choose which side she will remain loyal to.
A very slow paced story with a pittance of action so don't go into this thinking the political intrigue turns into a royal battle. There is no tension or suspense and even the secrecy around Brienna's parentage is paltry as the family trees, which are unwisely placed at the beginning of the novel, give away many of the poorly disguised revelations the plot relies on.
The use of the word "passions" to describe skills many people would like to attain even today, and the whole concept of one tutor spending seven years with one student in a school of 5 students, each striving for excellence in a separate "passion", does not provide enough substance to the story. The author has invested a large portion of this novel to setting up the concept of "passions" but the process of attaining a passion is extravagant and they did not seem to be any greater a skill than a normal person would have, nor do the "passions" play a vital role in the story.
Romance is not a main focus in this story – thank goodness. Although the romance is subtle and only touched on through Brienna's childhood, the suggestions that the 'master' was growing enamoured with his student over seven years of tutoring her, made me uncomfortable and had me cringing by the last chapter.
Apart from the cultural and historical differences of behaviour between a student and a tutor, another theme which will raise a lot of discussion among students is the empowerment of females; their journey of self-discovery and their place in society from childhood to adulthood in the 16th century, compared to modern day ideals.
Book 2 is due out this year and you can read an interesting post from Rebecca Ross's blog about the angst of disliking her own work and on the writing process for The Queen's Rising series.
After reading this review many may feel reticent to read this book but I have to say Rebecca Ross's skill in creating vivid worlds and credible characters makes this an impressive debut novel demonstrating Rebecca Ross's potential as an author to follow.
Reviewed by Sharon Smith