Guy Edmonds and Matt Zeremes (text) and Peter William Popple (illustrator), Zoo Crew, Scholastic Australia, September 2021, 192 pp., RRP $15.99 (pbk), ISBN 9781760976569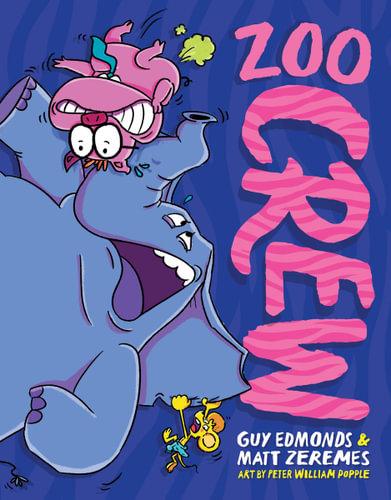 Friends Princeton the pig, Mabel the mouse and Eddie the elephant are the nerds of Bazooglyville Primary School or Zoo Primary for short, and are desperate to star in this year's athletics carnival after being total losers the year before. As a team they are extra keen to win the novelty relay as it comes with a year's supply of super yummy gelato. The problem is they are up against the dastardly Echo the eagle and her sidekicks Mario and Mumu the meerkats. When you're facing this lot, skill and honesty won't get you far. It also doesn't help that Principal Phaart, the grossest and wartiest of toads supports the bad guys.
Action packed, this fast-paced narrative, supported by Peter William Popple's black and white, humorous illustrations will draw readers into this competition between good and bad, right and wrong. But can the good guys win when the odds are stacked against them?
Using font variation, lists and comic strip to vary the narrative interest and tension, not to mention the inclusion of lots of gross stuff like butts, farts, burps and pus smoothies, Guy Edmonds and Matt Zeremes have created a well-paced, romp for kids that explores the importance of teamwork and friendships.
May also appeal to reluctant readers.
Highly recommended ages 6+ years.
Reviewed by Mem Capp