R. J. Palacio, Pony, Penguin Random House, September 2021, 304 pp., RRP $26.99 (hbk), ISBN 9780141377056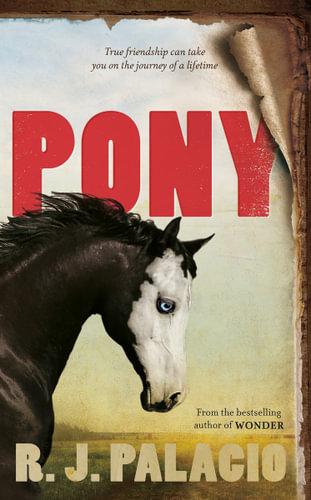 If my debut children's novel sold millions of copies (sigh), I suspect I'd stay firmly entrenched in my genre of choice. But R.J. Palacio, author of Wonder, a New York Times best seller for nearly a decade, has opted for a stunning change of pace. And thank goodness for that. Because Pony, a deft blend of historical fiction, fantasy, adventure, coming of age and more, is an extraordinary read that unfolds like all good mysteries. And truths.
Young Silas Bird is left behind when his father, a scientist and early photography tinkerer, is taken away on horseback by strangers in the middle of the night. Except he is not really alone. Mittenwool, a long-time companion that only Silas can see, is always around. When a pony turns up the next morning, the one with odd markings that had accompanied the strangers, Silas senses his father is in trouble. Setting off with a reluctant Mittenwool and his deceased mother's violin, Silas embarks on an epic journey to find his father, bringing him face-to-face with his greatest fears. Think True Grit meets The Sixth Sense.
Featuring daguerrotypes, ghosts, outlaws and a counterfeiting ring, this genre-bending novel is a tale for our times, despite being set in the 1860s. A motley assortment of memorable characters and non-stop action will keep young readers turning the pages until the ending ties together the many strands of Silas's poignant story.
A timely and unforgettable odyssey about love, resilience, and the power of connection.
Highly recommended.
Reviewed by Maura Pierlot