Emma Allen (text) and Lisa Coutts (illustrator), The Great Book-Swapping Machine, National Library of Australia, September 2021, 40 pp., RRP $24.99 (hbk), ISBN 9780642279736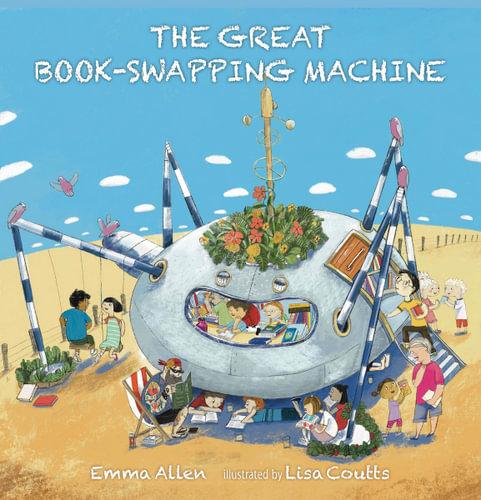 When a mysterious 'thing' lands in an outback paddock, no-one has any idea what it is, what it does or why it's there! But Fabio, the little boy in whose family farm the thing has landed, knows it must be important. He finds his way inside and makes a marvellous discovery – a book, fittingly entitled A Daydreamer's Guide to the Galaxy.
After trying unsuccessfully to make the thing fly, Fabio finds a girl reading his book and she offers him a different book – a book swap begins. The two children – despite discouragement from the inspectors from the space agency – decide to call the thing a great book-swapping machine. It becomes the centre of the community, which rallies together to save the machine when the space agency threatens to take it away. The children explain that the machine is now a street library and is certainly not 'space junk' so it is allowed to stay.
The last three pages of the book are entitled 'The Wonderful World of Libraries'. This section gives some fascinating information about ancient books and libraries, the development of printing and Australia's libraries. The book is thus a very clever blend of fiction and fact. The illustrations are whimsical – galahs feature on quite a few pages and on the front endpaper – but also character-driven. Fabio's reactions to events are clearly depicted in his facial expressions, for example; the space agency inspectors look suitably intimidating when they first arrive, the townspeople are all individuals and even the thing exudes happiness when it feels wanted. The layout is varied with double-page spreads giving us views of the whole of the machine, smaller vignettes of characters and full-page illustrations with just a single line of text. The layout, the written text and the illustrations all contribute to the narrative.
This is a delightful celebration of books, reading and libraries.
Reviewed by Margot Hillel