Catharina Valckx, Zanzibar, Gecko Press, August 2019, 80 pp,. RRP $16.99 (pbk), ISBN 9781776572564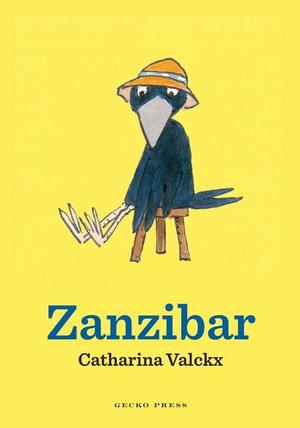 I was excited to read this book by Gecko Press, an NZ based publisher, that have translated and published a few books our family has really enjoyed, such as the 'Simon' series and Leo Timmers' books.
Zanzibar is a translated chapter book, originally written in French by a very prolific author/illustrator, Catharina Valckx. The style of the illustrations is similar to Lucinda Gifford's images in the Princess Peony series, black, white and one colour.
Zanzibar is a crow who, other than having an exotic name, is ordinary and deemed too uninteresting for a visiting reptilian journalist to write about. With a determination to do something newsworthy, Zanzibar sets about to find a (small) camel and lift it into the air. Venturing to the desert to accomplish his task, Zanzibar succeeds, however, the journalist is sceptical until photographic evidence can be produced.
There is a tagline on the inside back cover that reads: "It is never too late to be incredible", which is an honourable and aspirational sentiment for children to hear stories about. Unfortunately, this story didn't quite hit that lofty mark, I found it more amusing than inspirational. Perhaps, this time the emotion was lost in translation.
This book is a chapter book, though I would say the story is suited to children who may be too young to read it to themselves, or perhaps those just emerging as independent readers, most likely 3-6-year-olds.
Reviewed by Cherie Bell