Andy Sagar, Yesterday Crumb and the Storm in a Teacup, Hachette, February 2022, 384 pp., RRP $16.99 (pbk), ISBN 9781510109483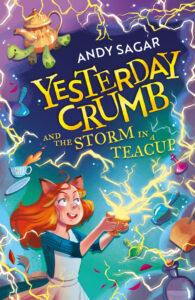 This is a great fantasy novel, combining unexpected magic, interesting characters, and twists and turns in the narrative. Yesterday Crumb is a fox-eared strangeling who has spent most of her life in a cage at a circus until rescued by Madrigal, the white-feathered raven. And there begins her transformation into a proficient tea-brewing witch. Some of my favourite things are Miss Dumpling's wonderful sayings; Dwimmerly End as a construct; a mobile teashop perched on flamingo legs; Jack as a creative confectionery witch; the obnoxious Mr Weep.
For me, the cover was not enticing, and though we shouldn't judge a book that way, it meant I didn't start the book as quickly as I would recommend it to readers who love fantasy novels. But the author says he loves it, so it's a good reminder how we all differ.
High recommended for its innovative world, real characters, and Sagar's imagination. It is the start of a series I believe, and I look forward to Yesterday's adventures as she hones her magical abilities.
Reviewed by Maureen Mann