Jane Godwin (text) and Gabriel Evans (illustrator), Little One, Affirm Press, July 2021, 32 pp., RRP $24.99 (hbk), ISBN 9781922400826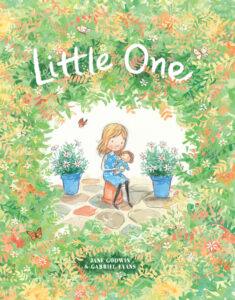 Jane Godwin is so prolific that one might think she has told all her stories by now. But still, she comes up with heart-warming and gut-wrenching tales for children.
Little One is a story many children will relate to, but especially the quiet, sensitive, tender-hearted souls who imagine and feel. Little One is Pippi's most treasured toy. Other children have blankets or teddies, but Little One is a worn-out, falling apart doll in a blue dress who is always there to sing a lullaby or wonder at the world with Pippi.
At the park one day there is a new puppy, Mimi, who wants to play with Little One, so she gets put safely up out of puppy-reach. As these things often go, Mimi is a wonderful playmate but also a distraction. At bedtime, Little One cannot be found. A caring parent takes Pippi and a torch back to the park, but they can't locate the special doll.
It's at this point that many readers will assume that because this is a children's book, Little One will miraculously reappear in some serendipitous way. But this is where Jane Godwin, accomplished and brave, allows the reader to follow Pippi on her journey of loss. We see how Pippi tries to compensate for the hurt of losing Little One and how she remembers her.
Gabriel Evan's illustrations are a wonderfully soft and complementary choice for this emotional story. The warmth of the autumn leaves, the tranquility of the night sky, and the gentle lines allow readers to grasp the emotion of the text and feel with Pippi.
While not a traditional book about grief, this would be a wonderful way to begin having those delicate conversations with young children who may have, or are about to experience, the passing of someone beloved.
 Reviewed by Cherie Bell