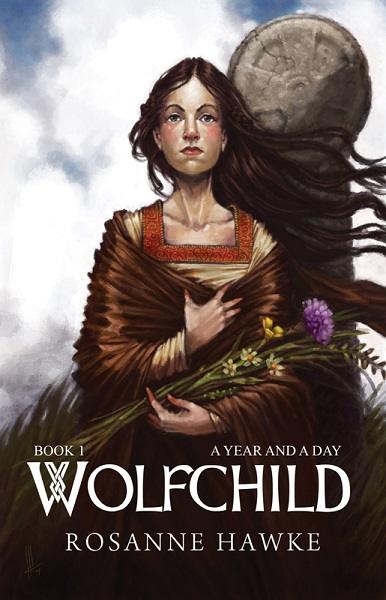 Rosanne Hawke (text), Emily Bensted (illus.),  A Year and a Day (Wolfchild #1),  Stone Table Books, 8 August 2017, 110pp.,  $14.95 (pbk),  ISBN: 9780648030515
Wolfchild is a historical fantasy set in 1099, revolving around gentle twelve-year-old protagonist Morwenna. The story chronicles her friendship with Raw, a boy who hides in the hills and has secrets he refuses to share. Wolfchild draws on Cornish legend, especially the legend of the lost land of Lyonesse.   
Morwenna lives a simple life, assisting her family on their farm, but also takes the chance, whenever she can, to slip off into the hills and aid the strange boy trying to survive in the wild. Raw comes from a place where life is harsh and punishment swift and cruel, and gentle Morwenna is the only friend he has.
Poetic, vivid language immerses the reader in Morwenna's rural world of hills, fields and streams. I enjoyed the story's slow, earthy rhythms, which were aided by the charming woodcut-style interior illustrations by Emily Bensted, as well occasional passages of verse:
Have a care, Wolfchild, dragons you hide;

all will flee, when you face the one inside.
Wolfchild, a CBCA Notable book in 2004, was republished this year by Stone Table Books.
Suitable for younger readers.
Reviewed by Elizabeth Foster