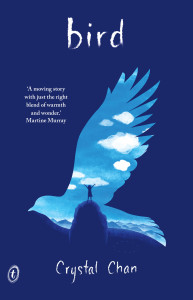 CHAN, Crystal Bird Text Pub, 2014 295pp A$16.99 NZ$21.00 pbk +e ISBN 9781922147707 SCIS 1641852
Secrets can be heavier than a backpack full of bricks.  Twelve year old Jewel knows all about secrets.  About keeping them and the pain silence can bring.  Her family never talk about her brother, John, who died the very day Jewel was born.  Nicknamed 'Bird' by Grandpa because he loved jumping off things, his body was found at the base of a cliff.  Of mixed race, and living in a small town in Iowa, Jewel is aware of how different her family is, a Jamaican grandfather who hasn't spoken for twelve years, a superstitious father who believes in 'duppies', malevolent ghosts who can take on human form, and an emotionally disconnected mother who distances herself from life.  Where does joy go when it leaves your family?
After another melancholy birthday, Jewel can't sleep, so she slips out into the night to hang out in her favourite tree.  She is surprised to find she is not alone.  A mysterious boy introduces himself as John.  Could this really be a coincidence?  Over the following days, Jewel slowly drops her defences and is surprised to find she is becoming firm friends with this unusual boy.  But why is Grandpa so agitated on meeting John?  When secrets begin to come out, Jewel learns some life lessons of her own.
Dealing with themes of loss, healing and friendship, this moving debut novel has unique characters that are interesting and well realised.  The author's heart-stirring, poetic language portrays Jewel's moods, emotions and personal wisdom about the world.  The hint of mystery and the supernatural along with the hope of a budding friendship and healed hearts moves the story along to its exciting climax.  Recommended for upper primary and secondary students.  Teaching notes available.
reviewed by Sharon Seymour