Sharon J Boyce (text) and Suzanne Houghton (illustrator), Who is at the Zoo?, Larrikin House, October 2020, 36pp., RRP $24.99 (hbk), ISBN 9780648804963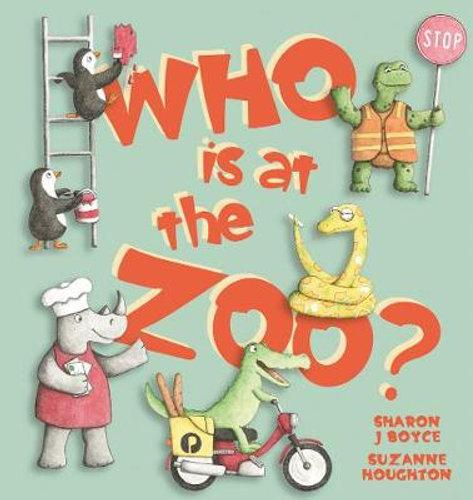 The day begins like any other, until you walk into your bathroom and see a tiger on the loo and a hippo in the tub! This leads you into an adventure of a day where you find animals of all kinds in every conceivable situation – making breakfast, doing the washing, laying carpet, giving swimming lessons and even driving the firetrucks! All of this will leave you wondering, with all the animals busy throughout the city – who is at the zoo?
Boyce has created a fun idea that will appeal to younger readers – what will the animals be doing on the next page? Although at times the repetition can be a bit much, the quirky details of each animal draw the reader in. The panda learning to cook with bamboo and the honking goose principal are just two examples of these. Houghton's illustrations are amusing and support the text well, especially in the final page where it is revealed just who is spending their time in the zoo.
Teachers could use this book as a mentor text and work with their students to create their own version – what could they imagine animals doing in their house, their city? They could then create their own illustrations to go with their writing.
Reviewed by Madeleine Crofts