Sally Sutton (text) and Brian Lovelock (illustrator), Wheels, Walker Books Australia, February 2020, 32 pp., RRP $24.99 (hbk), ISBN 9781760651589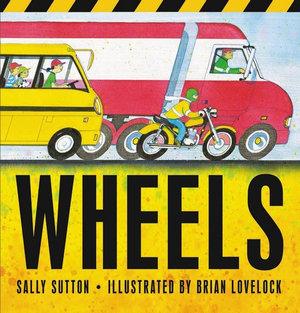 Award-winning and bestselling author, Sally Sutton, and award-winning illustrator, Brian Lovelock, roll out yet another fabulous title for young vehicle-enthusiasts. It's called WHEELS; an interactive and engaging concept book in line with the popular Roadworks, Construction and Dig, Dump, Roll series.
The large square, hardcover format is perfect for toddlers to grasp and explore, whilst also making for a suitable read-aloud visual in group settings. Youngsters from as young as two will enjoy the rhythm and repetitive text that invites reader participation – "Wheels go fast, wheels go slow. Shout what's coming, if you know!" Clues, both in the text and illustrations, allow for the use of prior knowledge, inferencing and prediction skills, alluding to a certain type of vehicle by its description and purpose. For example, "Snazzy wheels, jazzy wheels, Picking-people-up wheels" is paired with the illustration of people waiting by the curb of a hotel with the look of anticipation in their body language and on their faces. 
For any kid obsessed with 'wheels', there's a big variety to get excited about – from a big rig to a motorbike, taxi, firetruck, rubbish truck and school bus! And in amongst all the 'things-that-go' is the consistency of the same family, and their little black and white dog, watching, and predicting the vehicles as they pass by. I wonder what kind of wheels they can be seen with in the end?
With a vibrant, child-friendly style and eye-catching tones, mixed with the effervescent technique of splashes and flicks – brilliantly representing a road-like and wheel-splash-like quality (plus fantastic tyre-mark tracks in the endpapers) – this book for fans of the series will be absolutely delighted with this presentation and language experience. Offering great scope for discussion, including a graphic of the parts of a wheel in the back of the book, toddlers and pre-schoolers are sure to roll out WHEELS over and over again.
Reviewed by Romi Sharp