David Hill (text) and Phoebe Morris (illustrator), Taking the Lead: How Jacinda Ardern Wowed the World, Penguin, 32 pp., March 2020, RRP $19.99 (hbk), ISBN 9780143774518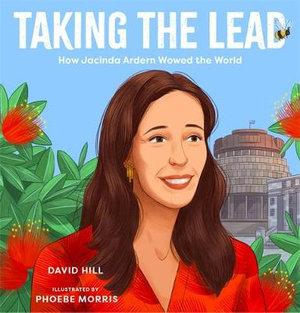 'Nobody is too young to start changing the world.' 
Award-winning author of acclaimed series, including Dinosaur Hunter: Jean Wilffren's Awesome Fossil Discoveries and First to the Top: Sir Edmund Hillary's Amazing Everest Adventure, David Hill recounts the true political journey of the world's youngest female leader, Prime Minister of New Zealand; Jacinda Ardern. Instilling to all children and in particular, young girls, is the notion that with courage, strength, integrity, and stoic beliefs and values, anybody can start changing the world. The take-away message weaved throughout is that if you want to go places, you just have to get on with it. This is a value-added concept giving our younger generation inspiration to filter out the unhelpful, and stand up, and advocate, for making change.  
Given a little taste of her upbringing and experiences, including her family life in Waikato and Murupara, through to her early roles in parliament, overseas travel, volunteer work and joining unions working for human rights and equal opportunities, readers are provided ample information of how Jacinda Ardern navigated her way across the globe in different political arenas before, and after, being elected as New Zealand's MP. And her story continues, all the while being told in a friendly tone, and coming back to the point, 'She just got on with it.'  
The cartoon-style illustrations by partner to the series, Phoebe Morris, also keep the tone light and approachable for children, matched with a simple font and including more personable facts about Jacinda that show she is just as human as the rest of us. Making change is a reality all of us can achieve. Readers are offered vast details in the pictures to pore over, being able to identify worldly landmarks and icons, as well as events, identified with accurate dates, that they may have seen on the news themselves. For example, the gunman attack on Muslim New Zealanders on March 15 2019 is recounted with objective facts and a recreated image of Jacinda hugging a young Somali-born woman, which was projected on the world's tallest building in Dubai.
This beautifully illustrated, non-fiction title is recommended for middle to older primary school students. Taking the Lead: How Jacinda Ardern Wowed the World contains some sophisticated concepts about politics that make for terrific classroom discussion. But at the same time, it conveys an interesting journey of an inspirational trailblazer and incorporates an important message of determination and confidence. The book also includes a timeline at the back, of women in politics dating back to 1893.  
Enlightening, inspiring and recommended.
Reviewed by Romi Sharp