Maria Isabel Sanchez Vegara (text) aEmer Stamp, Pests, Hachette Australia, March 2020, 192 pp., RRP $14.99 (pbk), ISBN 9781444949629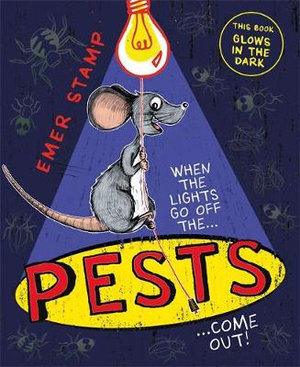 I did not expect to like a book about a mouse, particularly after we found mice on our patio, snacking on some seeds I'd carelessly left out. Rodents definitely creep me out. But the mouse in this book is a pretty endearing little chap and I loved reading about the world through his eyes. His name is Stix and he loves his grandma, respects her rules (mostly) and calls the humans "mans", i.e. Mr Mans, Mrs Mans and Baby Mans. He gives them pretty funny names too, which will give young readers a giggle – but I'm not giving them away here. Using his mouse logic kids can come up with their own versions for the family!
The mice live in the Mans family's apartment, in a small nest behind the washing machine. (Eek!) Grandma's rules keep the mice hidden and alive. But sometimes the rules get broken and that's when Stix's adventure starts. I personally didn't enjoy the adventure as much as Stix's time in the apartment, but my boy, 7, was hooked and asked me to keep reading right to the end (which is a win because he makes me leave so many stories unfinished!). We also caught his big sister listening in and she told me this book was her Year 6 class pick of three books they had to read and review as a class. The story is complemented with loads of fun, black and white illustrations that break up the text nicely, although I (completely irrationally!) tried not to touch the pictures of the mice!
Reviewed by Carissa Mason